Santa Fe shooting triggers rise in Texas blood donations
NEWYou can now listen to Fox News articles!
TEXAS CITY, Texas – In the hours after the high school shooting in Texas on Friday, Cheryl Pearson racked her brain for ways to help -- and show her hometown in Galveston County that she cares.
"There's so much you want to do to help, you just don't know what to do," Pearson said.
She told Fox News her son was a friend of one of the victims and the suspect, Dimitrios Pagourtzis, 17, who allegedly opened fire at Santa Fe High School on Friday morning, leaving 10 dead and many more injured.
TEXAS SHOOTING SUSPECT SAYS HE AVOIDED SHOOTING STUDENTS HE LIKED TO 'HAVE HIS STORY TOLD,' AFFIDAVIT SAYS
When Pearson learned of a blood drive Saturday at the Mainland Medical Center – a hospital that cared for two people injured in the shooting – she jumped at the opportunity to take action in response to the "unreal" tragedy … even if that meant sitting in the hot sun for two hours.
"I thought giving blood, it's helping someone," Pearson said tearfully. "I thought that's all I can do right now. Whatever is possible."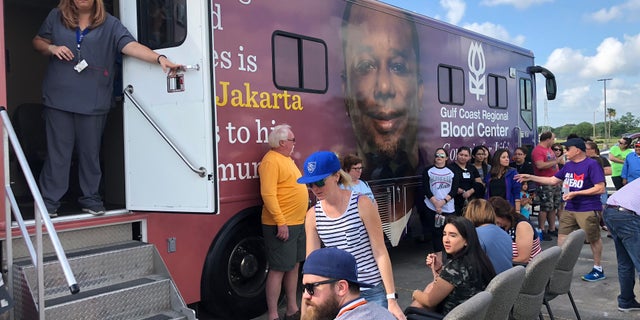 By her side was another mom, Anna Gerald, who's son recently graduated from the school. Gerald, too, was looking to find relief through helping the community.
"The emotions the parents are having right now, you just can't understand them until you become a parent," Gerald said.
She held her young girls close while waiting in line. Gerald said there is a lesson for her kids in this unfathomable time: "Teach them to do whatever you can do to help in a time of need. Teach them to be caring. Teach them when they have their own babies what they can do to be a good mom and parent."
The pair of friends were among dozens of locals who attended the Gulf Coast Regional Blood Center's blood drive in a coach bus.
The center arranged for two mobile blood drives Saturday in response to Friday's shooting – one at the Mainland Medical Center in Texas City, another at the Clear Lake Regional Medical Center in Webster – and both within a 15-mile radius of Santa Fe High.
"I like to say Harvey brought the downpour, but Texans brought the outpour; you're seeing that same outpour today."
Cameron Palmer, a spokesman for the blood center, told Fox News officials planned the last-minute drives Friday afternoon.
A few hours after the shooting, the Gulf Coast Regional Blood Center posted on Facebook that area facilities were requesting more platelets and O-negative red cells. Shortly later, Palmer said some of the neighborhood donation centers received such a generous response, they had to turn people away.
Saturday was no different.
Within the first hour of opening the bus for donations in Texas City, there was a two-hour wait.
Local college student, Elisa Sepulveda, woke up at 6 a.m. to arrive more than an hour early and assure herself that she'd ha ve a spot in line.
"I don't have the money or anything to donate, so I guess my first reaction when I saw that we could donate blood was, 'Okay I have to go because that's the only way I can help,'" Sepulveda said. "If I can't give them money, I'll go give them something I can."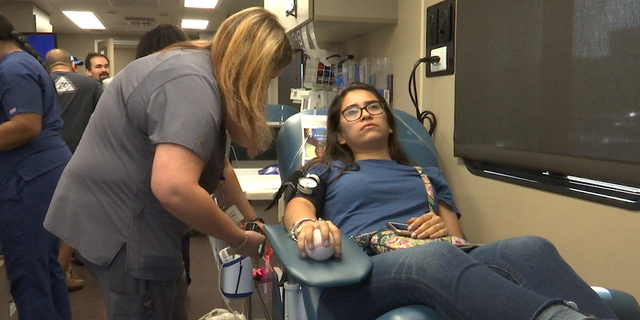 Rachel Bejarano said she finally weighs enough to give blood. The junior at Santa Fe High School will be next year's National Honor Society president and is hoping her gift of blood will help her process Friday's incident.
"I don't have a lot of words for what happened," she told Fox News. "In a weird kind of way, I think it will help other people, especially my classmates, see that some people are going out there to help during this time."
Republican Texas Rep. Randy Weber choked up when he saw the line wrapping along the bus and weaving through three tents. He thought about Hurricane Harvey last year.
"I like to say Harvey brought the downpour, but Texans brought the outpour; you're seeing that same outpour today," Weber said.
A blood center official said the bus can accommodate an intake of 100 donations per day, so between the two mobile locations, he is expecting up to 400 pints of blood.
There are no additional donation sites scheduled in response to the shooting, but officials are reminding residents there are neighborhood donation centers open every day in the Houston area.
"We will laugh again, it will take time," Weber said, as his eyes welled up. "But we will come back because we're Texans. I can't say enough about these fine people."