Santa Barbara backpedals on jail time for plastic straw offenders
Officials in a posh California city have admitted what their critics said all along - the idea of sending food servers to jail for handing out plastic straws sucks.
Santa Barbara officials have denied the city was planning to impose jail sentences of up to six months for straw offenders.
Under the proposed ordinance discussed by the city councilearlier this month, restaurants, bars and supermarkets would be prohibited from providing their customers with plastic straws, cutlery and stirrers.
The ordinance discussed cited chapter 1.28 from the city's municipal code which would begin with a warning and then escalate to a "fine not exceeding one thousand dollars ($1,000), imprisonment for a term not exceeding six (6) months" for repeat offenders.
Such a penalty would be the harshest in the country. In comparison, Seattle, which became the first major city in the country to ban plastic straws earlier this month, only fines businesses $250 for each offence.
John Yoo, Heller professor law at UC Berkeley School of Law and a FoxNews.com contributor, described the ordinance as "silly".
"Santa Barbara's silly environmental policies demonstrate the misgovernment of California cities," he said.
"Violent crime and property crime in the state are rising. The homeless are making our streets increasingly unsafe. Instead of addressing these basic public safety problems, cities like Santa Barbara are sending the police off to chase soda drinkers who like to use straws."
But Nina Johnson, Senior Assistant to the City Administrator of Santa Barbara, insists nobody is facing jail time.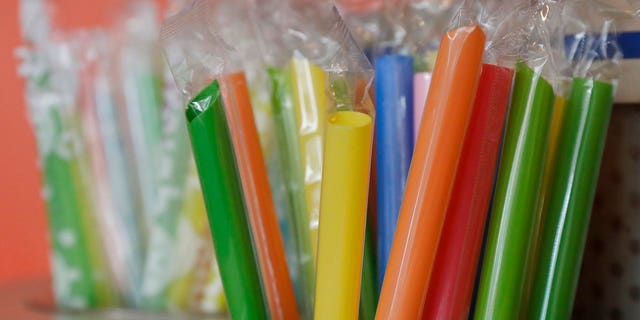 "Santa Barbara has not adopted a law banning plastic straws. A law is still being crafted to reduce the use of plastic straws," she told FoxNews.com.
STARBUCKS, CITING ENVIRONMENT, IS DITCHING PLASTIC STRAWS
"No one will go to jail for using a plastic straw or providing a straw to a customer.
"There is no intention to strictly enforce the ordinance. The City's plan is to work cooperatively with restaurants to ensure straws are available by request."
She added that the city wants to join the likes of Seattle and Malibu to reduce the use of plastic straws and the city council will continue their discussion in September.
She also insisted that language citing the six month sentences "will most likely be deleted as there's no intention to penalize businesses with jail time or fines.
"This is the general enforcement language that applies throughout the municipal code," she said.
NEW YORK CITY IS LATEST TO CONSIDER BANNING PLASTIC STRAWS ALTOGETHER
While unlikely to ever be enforced, the specter of six-month jail sentences cast a spotlight on Santa Barbara's penal system.
The county is awaiting the opening of its new Northern Branch Jail, a 376-bed, 133,000 square foot facility which is currently scheduled to open in Spring next year for medium and high security inmates.
The current main jail, which was built in 1971, receives male and female prisoners from all areas of the county and houses both pretrial detainees and sentenced inmates.
In May 2016, a Santa Barbara County grand jury released a report detailing the jail's problems, describing it as "dated and overcrowded".
"Some inmates are sleeping in plastic structures that are on the floor and are commonly called 'boats'… The Jury noted the presence of bedding on the floor in the hallway of one of the newer sections."
A follow-up report in 2017 stated that the jail is rated for 659 inmates, with an additional 160 inmates in its medium security facility. But at the time of the inspection, there were 803 inmates in the main jail, and a further 234 in the medium security facility.
Earlier this week, San Francisco became the largest city in the U.S. to ban restaurants and retailers from providing customers with plastic straws. Businesses in the city will have to meet the new guidelines by January 1, 2020.
As well as San Francisco and Seattle, several smaller West Coast cities including the likes of Malibu have banned plastic straws and utensils.
The Walt Disney Co. also announced this week that it will eliminate straws and stirrers from all its theme parks by mid-2019.
It estimated that it will amount to a reduction of "more than 174 million straws and 13 million stirrers annually."