Sanford police chief keeps the peace in days after Zimmerman verdict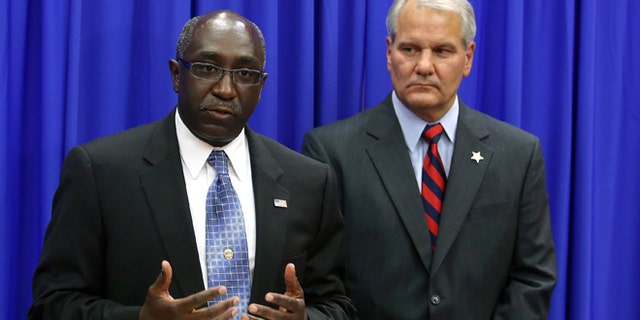 NEWYou can now listen to Fox News articles!
Tensions were high in the town of Sanford, Florida before last Saturday's verdict in the George Zimmerman trial but the small Seminole County town remains unscathed -- in great part due to the new police chief, who made it a top priority to personally reach out to the community in an attempt to keep the peace.
Cecil Smith, a 26-year law-enforcement veteran, was tapped to head the Sanford police department in April 2012 after his predecessor was fired by city commissioners for not arresting Zimmerman for the fatal shooting of teenager Trayvon Martin two months earlier.
It was a crucial time for the central Florida community, but Smith set out to quell unease and tensions within the community.
Smith, who previously served at the Elgin, Ill. police department before leaving with the rank of deputy chief, immediately felt set out to assess the situation in Sanford.
"After getting a feel for what was happening in house, I wanted to set out to the community," Smith said in an interview with FoxNews.com." I told our officers you can't talk about the community without know what knowing what's going on in the community."
Upon his arrival, the new chief immediately enacted what he has referred to as "walk and talk," in which he and up to 12 officers would go to a different neighborhood each week on foot and speak with residents about their concerns pertaining to not only the shooting but any other issues.
"Having a pro-active approach is very different from the typical authoritative approach," Smith said. "To be honest, the community didn't trust the police department in the past because officers were doing things that weren't appropriate."
"That two-way communication opened doors that were closed for a long time."
Smith also began meeting with Seminole County Sheriff Don Eslinger and other area law enforcement agencies near the end of the trial to devise contingency plans for when the verdict was announced.
Part of the plan called to have at least 50 officers on duty at all times in the initial days after the verdict.
"We had discussed what kind of response we would need for any emergency and options for things that could possibly occur," Smith said.
As soon as the not guilty verdict was read, Smith sprang into action, quickly leaving the courtroom and heading to an emergency operations center with the Seminole County Sheriff.
While large and sometimes unruly protests hit a number of major cities last weekend, Sanford experienced clear streets and small, peaceful protests with no related arrests.
Many have credited this to Smith, who in turn said,"I give a lot of credit to the people of Sanford.
"When you look back at this case, a year ago there were 30,000 people in this town and they wanted to see charges filed against Zimmerman. They wanted the former chief to be relieved of his duties for not acting sooner and they wanted a trial. And this all of course happened.
"In many ways, I think it set the tone for Sanford."
Smith has continued his outreach to the community since the trial. On Monday, he attended a church service and spoke to 70 people, mainly African-American residents of Sanford.
He said he intends to continue his "walk and talk" initiative, as well as assessing current neighborhood watch programs and enacting a youth outreach with African-American students.
"It's a new life and a new chapter," he said.
"...And a new chapter is being written."