Sandy victim needs more than hugs from Obama to rebuild along Jersey Shore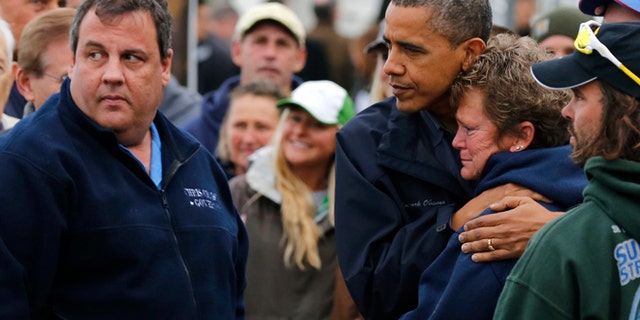 NEWYou can now listen to Fox News articles!
After President Obama wrapped her in a well-publicized embrace, Donna Vanzant became the face of a promise of "immediate" assistance from the federal government in the days after superstorm Sandy devastated the East Coast.
[pullquote]
But as Vanzant battled with her insurance company for the funds to rebuild her Jersey Shore marina, she had another brush with the commander-in-chief that left her feeling less confident in Washington's efforts. After sending an email to the White House asking for the federal government to make good on its promise to help, Vanzant received a form letter that never answered her questions.
"It had nothing to do with what I was asking him. It was a form letter. It thanked me for supporting the troops," Vanzant said in an interview The Philly Post blog on Friday. "He made a promise to rebuild on national television, and I can't even get this money. It's heartbreaking, really."
Now, Vanzant has her own tenacity to thank for the light at the end of the tunnel. After her insurance company refused to return multiple calls, she finally got through in the wake of the new media attention -- and got some answers.
"The company is mailing me a check next week. It's nowhere what I need, but it will help," Vanzant, whose North Shore Marina in Brigantine, N.J., was severely destroyed during the October storm, told FoxNews.com.
Vanzant says she will be receiving a check for $160,000, which will provide a start for rebuilding her business, though it will not completely cover losses she estimates at $500,000.
"I'm just a person working seven days a week, trying to get by," she said. "We're going to work through it."
Vanzant first came into the public eye when she was photographed being embraced by Obama while he was surveying the damage along the Jersey Shore in the days after Sandy's destruction, and was assured by the president that she, and many others along the coast, would receive immediate assistance.
That promised assistance has yet to be given, with flood assistance only being voted on this past Thursday by lawmakers in Washington.
Despite the hurdles, Vanzant says she hopes to reopen the marina in March. But she can't be as sure as she was that day in early November, when the most powerful man in the free world said he would help.
"When you get a hug from the president of the United States, you feel like there's something there," she told the Philly Post. "You promise something, you keep it. And that was a broken promise. I've never been a person to expect free handouts, but the president gave me hope. But now, I just don't know."