Sandy blows back Halloween in East Coast communities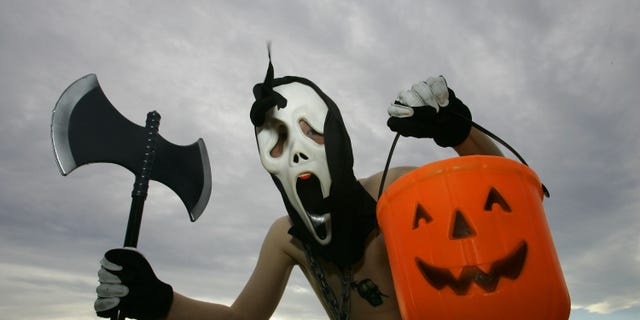 NEWYou can now listen to Fox News articles!
Communities along the East Coast are still reeling from the effects of Superstorm Sandy, and now officials in storm-ravaged areas have postponed Halloween festivities and trick-or-treating.
Anticipating a long-term recovery effort, New Jersey Gov. Chris Christie promised to reschedule Halloween if conditions do not improve by Wednesday evening.
"If conditions are not safe on Wednesday for trick or treating, I will sign an Executive Order rescheduling Halloween," Christie tweeted Monday night.
The storm knocked out power to more than 2 million homes and businesses in the Garden State and stranded residents who ignored warnings to evacuate barrier islands.
Some municipalities in New Jersey aren't waiting for an executive order to postpone Halloween events.
"... we don't want trick or treaters on the road Wednesday."
In coastal New Jersey, local fire officials postponed the Toms River Halloween parade, which attracts hundreds of people to the Ocean County township each year.
Ocean County Administrator Carl Block said officials in municipalities along the Jersey Shore have been too preoccupied by response efforts to even consider curfews for the holiday.
"We have not even addressed Halloween," Block told Fox News. "We are still trying to restore power and get onto our barrier islands."
Officials in at least eight cities and towns in New Jersey's Gloucester County have postponed trick-or-treating to Nov. 3 according to the Star-Ledger.
South Harrison Mayor Jim McCall told the paper it would be "less stressful" to impose curfew on children younger than 18 for the night.
"It's a really important holiday for the kids, but there's going to be a lot of aftermath and cleanup and we don't want trick or treaters on the road Wednesday," McCall said.
In New England, which was not immune to Sandy's wrath, many communities plan to allow Halloween events and trick-or-treating to go on as planned.
Kate Fox, executive director of Destination Salem in Salem, Mass., said while some festivities have been canceled, Sandy has failed to put a damper on the city's celebrated traditions.
"Salem was really lucky in that the damage sustained from the hurricane was not extreme or expensive," Fox said, noting that hundreds of tourists are expected to take part in public events.
Parents in the port city of Gloucester, Mass., and the New Hampshire towns of Durham, Lee, and Madbury were encouraged to take their kids trick-or-treating Sunday before the storm's arrival.
The National Retail Federation estimated that Halloween spending would reach $8 billion this year. The retail association says the average person will spend about $80 on decorations, costumes and candy.
Kathy Grannis, an NRF spokeswoman, told Fox News the storm will have a minimal effect on consumer spending since most shoppers likely made holiday-related purchases before the storm.
"Consumers by now have had four full weekends to shop for all of their Halloween goods," Grannis said, adding that an estimated seven in 10 Americans plan to celebrate the holiday.
Some specialized Halloween retailers in coastal communities along the Eastern Seaboard will probably see reduced sales as a result of the storm, according to Grannis.
"They may feel a pinch obviously because they aren't getting last-minute shoppers," she said. "It's obvious they rely on the final days before the holiday."