Sandusky judge denies accusers' bid for pseudonyms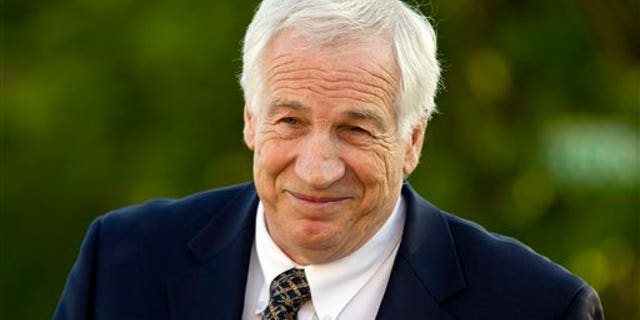 BELLEFONTE, Pa. – Alleged victims of former Penn State assistant football coach Jerry Sandusky will not be allowed to avoid disclosure of their names by testifying under pseudonyms, and tweets or other electronic communications by reporters will not be permitted during the trial, the judge ruled Monday.
Judge John Cleland also resolved a dispute over research into potential jurors, a day before jury selection is scheduled to start in Sandusky's trial on charges he sexually abused 10 boys.
Cleland denied a request by Sandusky's lawyer to order the attorney general's office to turn over information it has collected about potential jurors. Cleland said there was not enough evidence to warrant a hearing on the matter, and noted that prosecutors have said they have only done what a diligent defense attorney would do.
"Even if the commonwealth collected the information in this case in the manner the defense asserts and which the commonwealth denies, I do not believe that the information is constitutionally required to be turned over to the defense," Cleland wrote.
The basis for the defense request was an anonymous letter that claims to list the information prosecutors have collected.
"A motion filed by counsel must be supported by allegations of fact backed up with some credible basis to believe the allegations to be true," Cleland wrote. "Otherwise the court and counsel can be engaged in chasing chimeras."
Sandusky, 68, faces 52 charges he abused 10 boys over 15 years, allegations he has repeatedly denied. He remains confined to his home as he awaits trial.
Cleland has not ruled on defense motions to have some or all of the charges thrown out, and the Pennsylvania Supreme Court has not ruled on a motion by Sandusky filed late Friday that requests a delay in the start of trial.
Cleland had said he would allow electronic communication, but not photographs or the recording or broadcasting of any verbatim account of the proceedings while court is in session.
Media groups, including The Associated Press, sought clarification on Friday, in response to which Cleland rescinded permission for any electronic communications from inside the Centre County courtroom.
"It is readily apparent from the allegations in the media's motion ... that the standard I applied in my definition is confusing to reporters, unworkable, and, therefore, likely unenforceable," the judge wrote.
At least 250 reporters have registered to attend the trial.