San Francisco's homeless crisis hurting tourism: 'People eat out of garbage cans'
In some San Francisco neighborhoods, hold your nose, and watch your step. Jon Handlery, who owns the Handlery Hotel in the popular Union Square district, said his employees and guests have to contend with filthy streets on a daily basis.
"You're seeing people lying in the streets, you're seeing people eat out of garbage cans, you're seeing people shoot up," he says.
Visitors Fox News spoke to said it's the worst they've ever seen in any major city. Julie Doherty, visiting with her family from Australia, was shocked during her most recent stay.
"I've never seen so many homeless. I think that's a real put off for people," she said.
Indeed, Joe D'Alessandro, head of the San Francisco Travel Association, acknowledges the problem – which has vexed city leaders for decades – has gotten worse in recent months.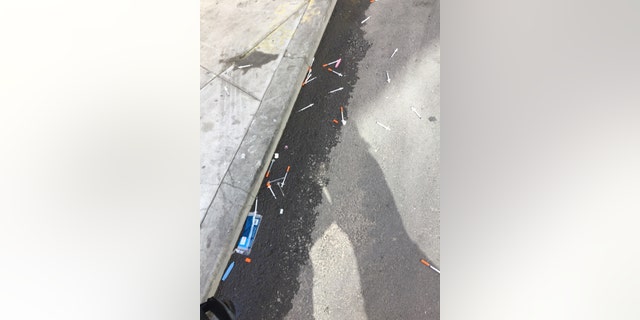 "We are losing business," he said. "We have groups who say they can't come to San Francisco as long as the streets are like this."
The exact impact on the city's $9 billion tourism industry isn't known, but in June, a major medical association pulled its annual convention from San Francisco, saying its members no longer feel safe. The cancellation of that one five-day trade show represents an estimated loss to the local economy of $40 million.
Adding to the danger are thousands of used syringes dumped by junkies and left littering the streets. Most were handed out by the San Francisco Department of Public Health to help reduce drug-related diseases.
With no reliable way to get them all back, the city is spending $750,000 to hire 10 people whose sole job is to pick up the needles – roughly 8,000 every month.
San Francisco's new mayor, London Breed, has made the issue a top priority, and is rolling out initiatives for supportive housing and rehab programs almost daily. She wants to open self-injection sites for addicts who need to shoot up.
"I want to get people off the streets that are shooting up," Breed said during her July 11 inauguration speech. "I want to get the needles off the streets."
Some blame the city's famously liberal politics, and argue San Francisco has been too tolerant, for too long.
"I think it's time for zero-tolerance," Handlery said. "We need to stop taking a point of view that it's their right to be on the street."
San Francisco spends hundreds of millions of dollars each year trying to help an estimated 7,500 homeless people. Critics say what's needed isn't more money, but a bold, new approach. Many in the tourism industry say their bottom line depends on it.