San Francisco hit with massive power outage linked to substation fire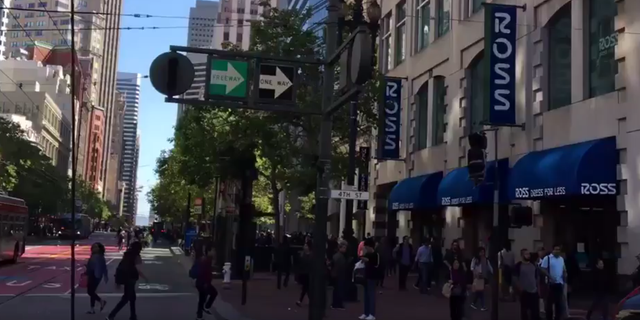 Up to 87,000 customers remained without power Friday after a widespread outage left a large swath of San Francisco homes and businesses without electricity, prompting officials to close a BART station while crews worked to restore service.
The power outage, which affected several neighborhoods, including the Financial District, Cow Hollow and the Presidio, resulted in the closure of the Montgomery BART station in San Francisco and halted service on all of the city's cable car lines this morning.
A PG&E spokeswoman said around 11:15 a.m. that power has been restored to about 6,000 customers Friday morning. The utility blamed the outage on a fire at the Larkin substation, which is located at 600 Larkin Street.
SHOOTING AT BOUNCE HOUSE PARTY WOUNDS 2 CHILDREN, 1 ADULT
"San Francisco Fire Department has responded and is working to extinguish the fire," the spokeswoman told KTVU. "All employees have been accounted for."
The utility did not say what caused the fire at the Larkin substation. Authorities said the outage started around 9:15 a.m. PG&E officials said they were unsure when power would be restored to all customers. San Francisco residents were asked to call 911 only in the event of an emergency.
Service to the Montgomery BART station resumed around 11:30 a.m. after the agency was able to bring a power generator online at the station, according to a social media post. "Normal service has resumed through DTSF," the agency tweeted.
The San Francisco Municipal Transportation Agency said that all cable car lines were down as a result of the outage around 9:45 a.m. The transit agency said shuttles were operating to provide service while the power was out.
READ MORE NEWS FROM FOX 2 SAN FRANCISCO.