San Francisco business owner claims cops accused him of breaking into his own store because he's black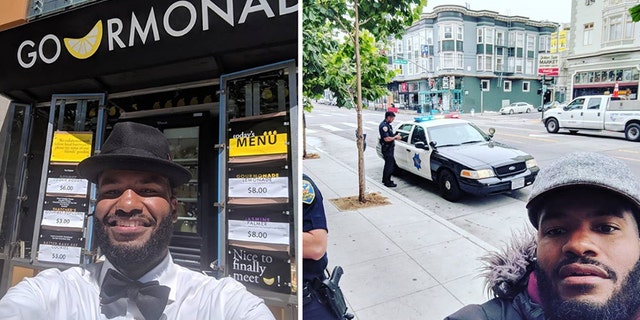 A black business owner in California claims that police officers approached him at his newly opened store, and accused him of trying to break-in.
Viktor Stevenson, owner of Gourmonade — gourmet lemonade — in San Francisco, wrote online Thursday that four officers walked up to him with "guns almost drawn" after they believed he was breaking into his own business in the Mission District.
"Four cops just hopped out on me guns almost drawn took my ID at my own store," Stevenson wrote on Instagram. "This racist thing is out of control but it won't stop me!"
The store's security alarm was going off, Stevenson told KNTV, and he reportedly asked the officers if that's why they were at his store, noting he was on the phone with the security company.
SUBWAY EMPLOYEE CALLS POLICE ON BLACK FAMILY WHO STOPPED TO EAT DINNER
Stevenson said the officers weren't there because the alarm went off, but rather accused him of breaking in. He alleged police asked to see his hands, which were in his pockets, and asked him to prove he owned the store.
"I said, 'Yeah absolutely, here is my key,'" Stevenson told the news station. "Took my key out, opened my door, closed my door. 'Are we ok? Are we good to go?' He said, 'No, can I see your ID?'"
The officers, according to Stevenson, said someone in the neighborhood reported him to police, which he says was because of his race.
"I am standing here at my business, on the phone, there is no way that looks suspicious," Stevenson said. "I am sorry. A three-year-old would be like, he is not doing anything."
The San Francisco Police Department did not immediately respond to Fox News' request for comment.
OAKLAND RESIDENTS CALL POLICE ON BLACK FIREFIGHTER DOING HIS JOB
The incident comes amid a string of similar situations around the nation in which people have called the cops on black people doing harmless things.
A Tennessee property manager was fired in early July after she reported to police that a black man was wearing socks while using the apartment complex swimming pool, just after a white woman called police to report that an 8-year-old black girl was selling water in San Francisco without a permit.