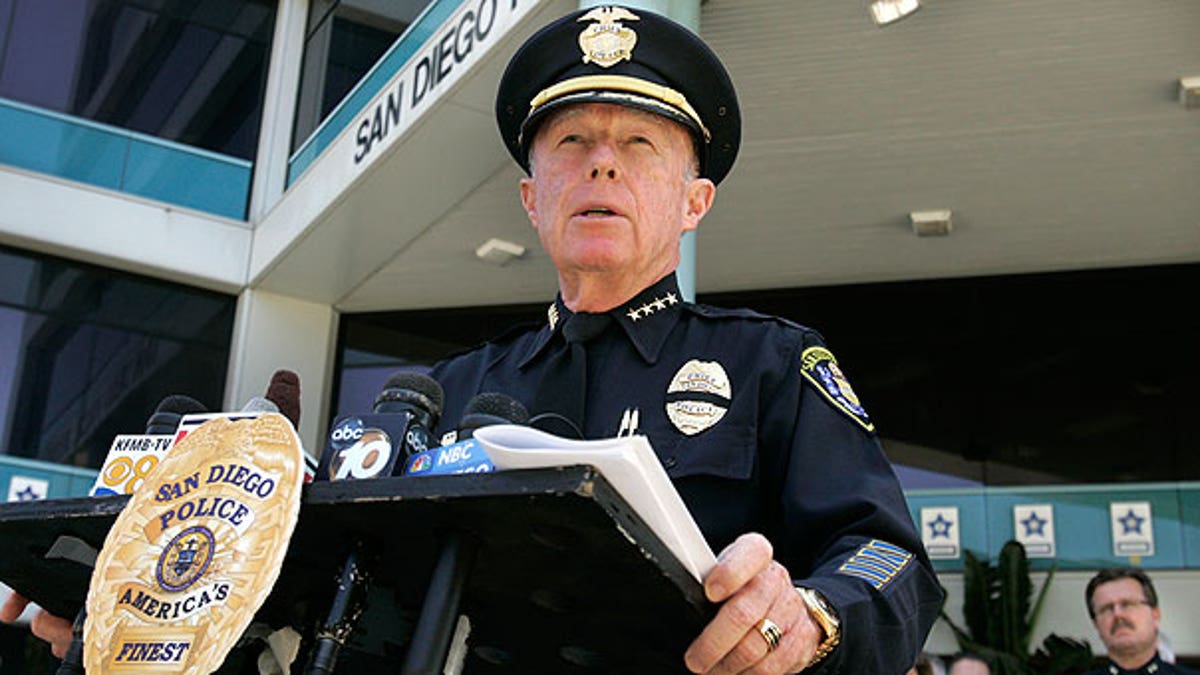 SAN DIEGO – An officer shot in the face in an apparently unprovoked attack died Sunday, and investigators found a suicide note left by the suspect who fired the gun, San Diego's police chief said.
Jeremy Henwood, a four-year veteran of the department, died a day after being shot while sitting alone in his patrol car in San Diego, Chief William Lansdowne said at an afternoon news conference at police headquarters.
"I could tell you that this was a senseless killing ... this was an assassination," Lansdowne said.
The armed suspect, Dejon Marquee White, 23, was tracked down by police after the attack Saturday and shot to death by officers as he tried to avoid arrest. Investigators said they have no motives for the shooting of the police officer. White wrote a two-page suicide note discovered at his apartment, but it didn't say how he was going to kill himself or why, according to police.
White was a suspect in another shooting earlier Saturday at an In-N-Out restaurant 14 miles away in El Cajon and had eluded police after a high-speed chase.
Shortly after the restaurant shooting, Henwood was either stopped or moving slowly when a black Audi with temporary plates flashed its headlights and came alongside.
"According to witnesses, the suspect vehicle pulled up on the left side of the officer's vehicle, pointed a gun out of the passenger window and fired at the officer," a police statement said.
Witnesses gave first aid to Henwood until paramedics arrived and transported the injured officer to a local hospital.
Henwood, 36, was a captain in the U.S. Marine Corps Reserves. He had recently returned from a yearlong deployment in Afghanistan.
A half hour after the attack, officers tracked down the Audi to an apartment complex and saw a man carrying a shotgun get in the car and start to drive away. Several squad cars blockaded the road and converged on him to make the arrest.
"The suspect grabbed the shotgun and several officers fired their weapons at him," the statement said.
The Audi rolled backward down the street and crashed into a fence. Officers pulled White from the car and called for paramedics. He was pronounced dead at the scene.
A neighbor at the apartment complex told police that White told her that he had shot a police officer.
Police believed a second suspect was holed up inside White's apartment but found the unit was empty. Investigators said later that White was acting alone.
The victim of the shooting at the restaurant in El Cajon was sitting with his girlfriend in his vehicle in the parking lot when he was approached by a man carrying a shotgun. The assailant fired one round at the victim, Martin Hanna, striking him in the face, before fleeing in the Audi, police said.
Minutes later, an officer who had no knowledge of the restaurant shooting spotted the Audi speeding and gave chase but abandoned the pursuit as it reached speeds of 100 mph.
Investigators have not been able to establish any relationship between White and Hanna. Police said Hanna is expected to survive.
White had a minor criminal record that included resisting arrest and petty theft, Lansdowne said.
Henwood's killing comes as the department copes with the recent deaths of two off-duty officers. Det. Donna Williams, 52, was stabbed to death July 18 along with her daughter. Williams' 24-year-old son, Brian, who had a history of mental illness, was charged with two counts of murder.
David Hall, a 14-year department veteran, died Aug. 1 of an apparent self-inflicted gunshot wound. Hall, a motorcycle traffic officer, was awaiting trial on drunken driving and hit-and-run charges.
Henwood was the second San Diego officer to be killed while on duty in the last ten months. In July, three people were charged with murder in connection with an October 2010 shootout that killed Officer Christopher Wilson, a 17-year department veteran, and two others. The 50-year-old father of two was the first San Diego officer to be killed in the line of duty in more than six years.
"This tragedy is another grim reminder that our police officers put their lives on the line every day to protect our community, and we are grateful for their courage and sacrifice," San Diego mayor Jerry Sanders said in a statement Sunday.
Henwood's parents arrived in San Diego Sunday from Texas. Funeral arrangements were pending.