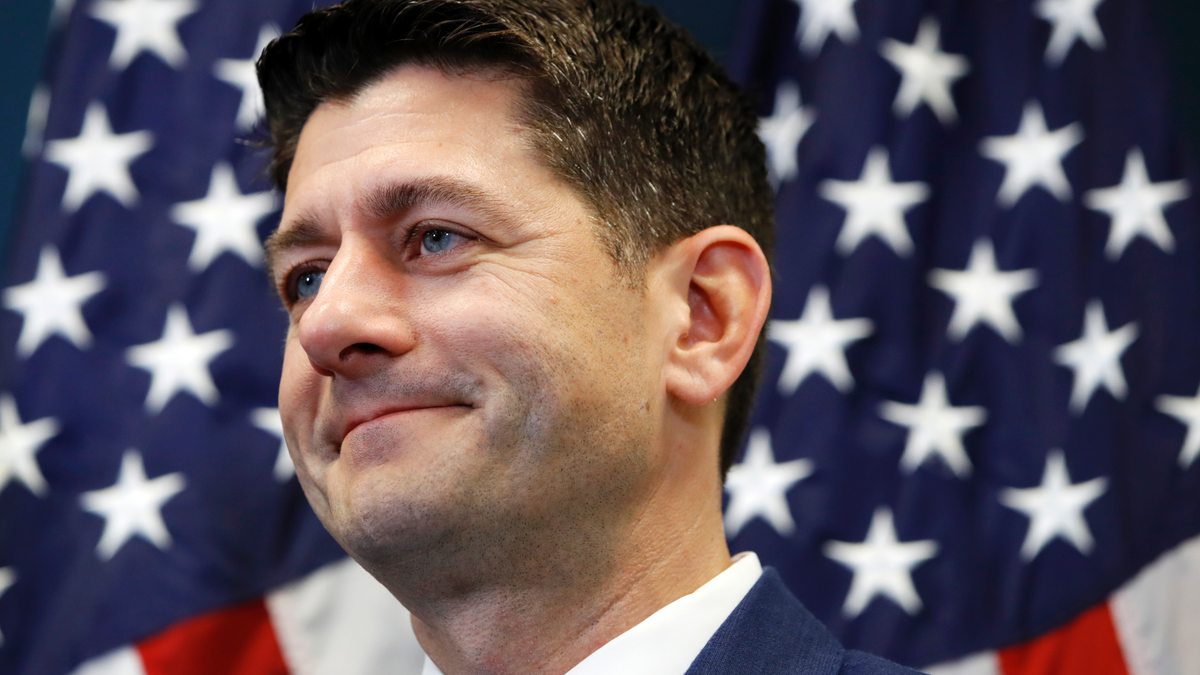 WASHINGTON – President Donald Trump's threat to revoke the security clearances of top former officials critical of his administration left congressional leaders stunned and confused, with the House speaker shrugging it off as a bit of "trolling."
"I think he's just trolling people, honestly," Paul Ryan, R-Wis., told reporters Tuesday with a laugh.
Senate Majority Leader Mitch McConnell, R-Ky., was surprised to learn that many former top national security and intelligence officials maintain access to classified information after they leave their posts. But both GOP leaders were leaving the president's plan to the White House.
"I don't have any particular advice to give the president," McConnell said Tuesday. "It's an interesting question. I'll look forward to seeing what the president decides on it."
Ryan said it is "something that's in the purview of the executive branch."
Democrats and some Republicans, though, viewed the threat against the six former officials with much more concern.
Sen. Chris Coons, D-Del., noted the list of those named by the White House "exactly coincides with those who've been publicly critical of the president."
"This is the sort of attack on free speech, the press and the rights of individuals to speak out in our country that really doesn't serve the president well," Coons said on CNN.
The threat to deny the officials access to classified information is the latest escalation in the president's war with members of the U.S. intelligence community.
On Monday, White House press secretary Sarah Huckabee Sanders said the president was "exploring the mechanisms" to strip clearance from former CIA Director John Brennan, as well as five other former officials who have held some of the most sensitive positions in government: former FBI Director Jim Comey; James Clapper, the former director of national intelligence; former CIA Director Michael Hayden; former national security adviser Susan Rice; and former FBI Deputy Director Andrew McCabe.
At least two of the former officials, who have served in both Democratic and Republican administrations, do not currently have security clearances: Comey and McCabe.
Sanders accused the officials of having "politicized and in some cases monetized their public service and security clearances" by making "baseless accusations" that the Trump administration had improper contact with Russia or was influenced by Russia.
Sanders did not cite specific comments made by any of the officials. But the president has been seething over the backlash to his meeting last week with Russia's Vladimir Putin and the ongoing investigations into Russia's meddling in the 2016 election, whether his campaign aides were involved in the effort and whether he obstructed justice.
Another White House spokesman, Hogan Gidley, told reporters aboard Air Force One on Tuesday that the president had "begun the mechanism to remove security clearances from certain individuals," but later clarified that he had misspoken.
"What I meant to say was it's being looked at," he said.
The idea of blocking access was first raised last week by Republican Sen. Rand Paul of Kentucky, who tweeted Monday that he would be meeting with Trump to discuss revoking Brennan's clearance for his scathing criticism of the president's performance at the summit with Putin.
Paul has been no fan of Brennan — he filibustered for 13 hours in a failed attempt to block his 2013 nomination for CIA director — and the senator's noninterventionist views put him at odds with much of the rest of the national security establishment.
But in Trump, Paul has found an audience and an ally as he tries to move the GOP off its hawkish foreign policy traditions. He would have preferred a more general revocation of credentials from former officials rather than a specific list.
"I told the president in private what I've been saying in public: I think there's a great danger having talking heads on TV who are ex-CIA agents and still have classified clearance," Paul said on Fox News.
Experts said there is some dispute about whether the president has the authority to unilaterally terminate a security clearance. But they said such a move would be unprecedented and ill-advised.
"Legalities aside, it seems like a terrible mistake to use the security clearance system as an instrument of political vendettas," said Steven Aftergood at the Federation of American Scientists' Project on Government Secrecy.
Democratic Rep. Adam Schiff of California, a ranking member of the House Intelligence Committee, tweeted that "politicizing security clearances to retaliate against former national security officials who criticize the President would set a terrible new precedent."
"An enemies list is ugly, undemocratic and un-American," he added.
Former CIA directors and other top national security officials are typically allowed to keep their clearances, at least for some period, as a courtesy and so they can be in a position to advise their successors. The clearances are also sometimes required for them to work for government contractors.
While standing next to Putin, Trump last week openly questioned his own intelligence agencies' conclusions that Moscow tried to tip the scales of the 2016 election in his favor and seemed to accept Putin's insistence that Russia's hands were clean.
Brennan slammed those comments as "nothing short of treasonous" and accused Trump of being "wholly in the pocket of Putin."
John V. Berry, an attorney who regularly represents federal intelligence agency employees, said that he didn't see any reason the president wouldn't be able to revoke clearance but that doing so would "be terrible for America" and "totally defeat the process of defending national security."
"If we start interjecting politics into this, our country's going to be significantly weakened," Berry said.
___
Associated Press writers Deb Riechmann and Zeke Miller in Washington contributed to this report.