Rusted, 132-year-old Winchester rifle found against tree in Nevada national park
The story of how it got there may never be known, but a rusting 132-year-old Winchester rifle -- known in U.S. lore as "the gun that won the West" -- was recently found resting against a juniper tree in a Nevada national park.
The gun, its stock split, gray and faded like driftwood, and its steel barrel rusted brown, blended in perfectly against the tree in a remote part of the Great Basin National Park until a National Parks Service employee spotted it.
"Perhaps it belonged to a lone cowboy riding the high range."
"The rifle, exposed for all those years to sun, wind, snow and rain, was found leaning against a tree in the park," said Nichole Andler, chief of interpretation at Great Basin National Park.
An engraving on the gun marks it as a "Model 1873," and Andler said further research showed the serial number on the lower tang, or portion of the grip, matched up with records held at the Center for the West at the Cody Firearms Museum in Cody, Wyo. with a manufacture and shipping date of 1882, Andler said. According to Morgan, Utah-based Winchester Repeating Arms, 720,610 of the rifles were manufactured between 1873 and 1916. In 1882 alone, more than 25,000 of the 1873 models were made.
The gun sold for $50 when they first came out -- nearly $1,000 in today's dollars. By 1882, they were selling for half that price and touted as an accessible "everyman's" rifle.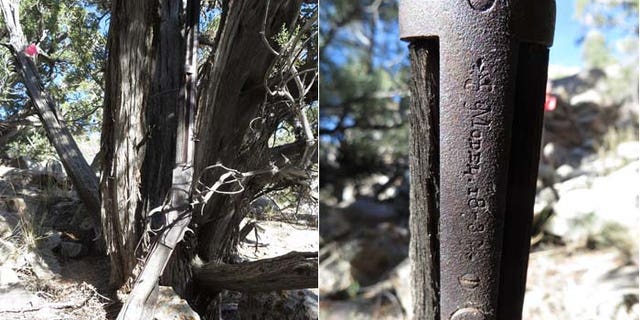 The discovery was enough to fire imaginations about the fate of the gun's owner. An article on Winchester's website offered a few theories.
"Perhaps it belonged to a lone cowboy riding the high range," wrote Winchester publicist Scott Engen. "Perhaps it was set aside by a sourdough prospector in his search for a vein of rich ore. Whatever the actual story, it has the makings of a great campfire tale.
On Great Basin Park's Facebook page, the same questions are being bandied about.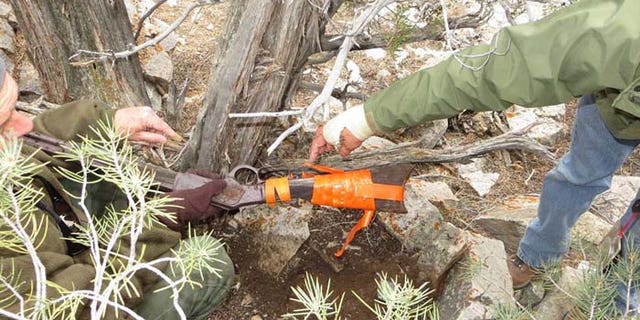 "Who left the rifle? When and why it was leaned against the tree? And, why was it never retrieved?" reads a post on the page.
The park's cultural resource staff is combing through old newspapers and family histories hoping to solve the mystery. But posters to the site had their own suspicions.
"No big mystery," wrote Kenneth Larson. "A hunter left it. Set it against the tree, took care of the deer, drug it or packed it out on a horse. Got to the bottom and realized he'd left the rifle and said screw it. Or went back and couldn't find it."
Park officials will exhibit the rifle before it is sent to conservators to stabilize the wood and apply museum conservation techniques to prevent further deterioration.