Russia Questions Fairness of 'Merchant of Death' Guilty Verdict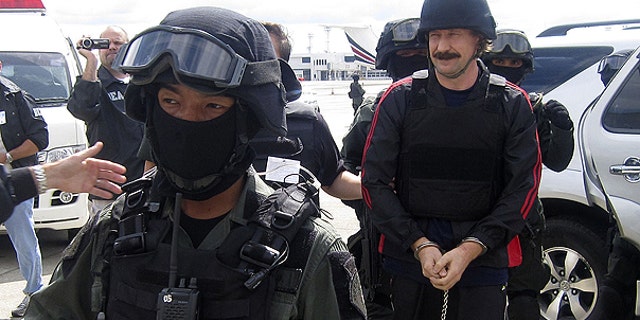 NEW YORK – A day after a federal jury found Viktor Bout, a Russian businessman known as the "Merchant of Death," guilty of conspiring to kill Americans by illegally selling weapons to terror groups, his home country questioned the fairness of the decision Thursday.
The mustachioed, 44-year-old Bout, who claimed to have been simply a private air transporter, was found guilty on all four charges against him: conspiracy to kill US nationals; conspiracy to kill officers and employees of the US; conspiracy to acquire and use anti-aircraft missiles and conspiracy to provide material support or resources to a foreign terrorist organization.
He faces up to life in prison when he is sentenced on February 8.
Russia's foreign ministry said alleged pressure from US authorities and poor prison conditions "put in doubt the very basis on which the charge was made and, accordingly, the fairness of the verdict itself."
"Our goal is to ensure his return home," the ministry added, saying Bout was "illegally extradited from Thailand (where he was arrested) under unprecedented political pressure from the United States."
Bout's lawyer immediately said his client would appeal.
"It's definitely not the end of the process. We will appeal," defense lawyer Albert Dayan said shortly after the conviction. The case had gone to the jury Tuesday.
Manhattan US Attorney Preet Bharara issued a statement saying, "Viktor Bout was ready to sell a weapons arsenal that would be the envy of some small countries. He aimed to sell those weapons to terrorists for the purpose of killing Americans.
"With today's swift verdict, justice has been done and a very dangerous man will be behind bars."
Bout, dressed in a gray suit and white shirt, looked despondent as he listened to the jury forewoman read out the verdict, AFP reported. He then hugged his lawyer before being led back to a detention center.
Bout's wife and teenage daughter were not in the courtroom, although they had attended most of the trial.
Bout went on trial Oct. 11 on charges of attempting to sell a huge arsenal, including hundreds of surface-to-air missiles, to US agents in Thailand posing as members of Colombia's FARC leftist guerrilla organization.
The weapons were supposedly being sought to enable FARC to shoot down American military helicopters helping Colombian forces.
In secretly taped conversations during the 2008 meeting, Bout said he could supply the weapons. However, his lawyer said it was all a charade to further his real goal, which was simply to sell two cargo planes.
A violence-filled movie, "Lord of War," starring actor Nicholas Cage, was inspired by Bout's life, while the chief US Drug Enforcement Agency agent who organized the sting in Thailand told CBS television that he was "one of the most dangerous men on the face of the earth."
A book about him was titled "Merchant of Death."