Runaway semitruck crashes into Minnesota school, injuring students
Two Minnesota elementary school students suffered minor injuries when an out-of-control semitruck rammed into their building early Tuesday morning.
The truck slammed into the Lyle Public School in Lyle around 8:30 a.m., Chief Deputy Mark May with the Mower County Sheriff's Office told FOX9.
"We were talking about Martin Luther King Jr. Day and all of a sudden we just heard this crash," Jake Woyen, a fourth-grader at the school, told the Star Tribune. "It was scary."
The truck hit a dividing wall between two classrooms, and then had one of its fuel tanks rupture on impact, spilling diesel fuel into the building, police said. Authorities said the incident could have been devastating if the truck had hit a few feet to either side and ended up in a classroom.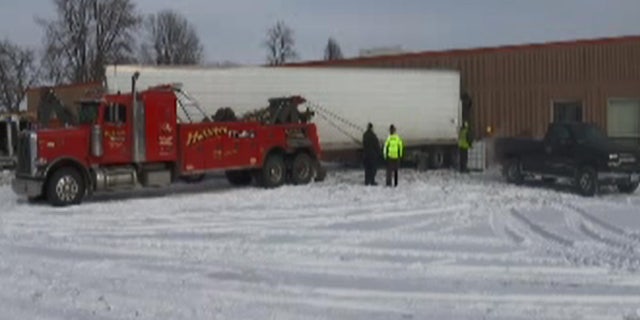 "That's what's scary when you think about it," Rev. Eileen Woyen, whose two children were inside the building at the time of the crash, told FOX9. "If it was only a couple feet one way or the other we might have had a different story."
Authorities rushed to evacuate the school while diesel fuel poured into the building. They said it was fortunate the fuel did not end up igniting.
SAN FRANCISCO TRUCK CRASH INJURES 7 PEOPLE, OFFICIALS SAY
"I've never seen a crash like this," State Patrol spokesperson Troy Christianson said.
Police said the truck originally rear-ended another car and veered towards the school. State Patrol said there were no indications the driver tried to brake or steer away from the school, but officials have already ruled out alcohol as a factor in the crash. The driver, whose name was not released, refused medical attention at the scene.
Students were released from the school shortly after the incident, while authorities worked to clean up the diesel fuel that had spilled into the building. School officials canceled classes Wednesday, and said it was unclear when classes will resume.