Roughly 900 pounds of 'invasive' crabs found in Cincinnati by Customs and Border Protection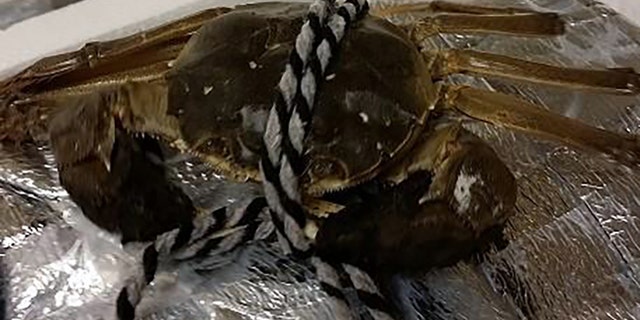 More than a dozen shipments containing roughly 900 pounds of an "invasive" type of crab were uncovered by Customs and Border Protection (CBP) officials, the agency announced Wednesday.
Agriculture specialists with the CBP found the Chinese mitten crabs on Oct. 16 after spotting "x-ray anomalies" while inspecting Chinese cargo at an express consignment facility in Cincinnati, Ohio, the CBP said in a news release.
ROASTED PIG IN LUGGAGE FOUND AT CBP BEAGLE AT ATLANTA AIRPORT
The "anomalies" were observed in 16 containers, which had been characterized as clothing items, the agency said.
"Once the specialists opened the boxes they found thousands of live crustaceans, all destined for residences in New York," the news release said.
The agency shared a photo of one of the creatures, saying that the "seizure of mitten crabs is the third interception of mitten crabs by CBP's Chicago Field Office in the past month."
ADVANCED MEXICO-US DRUG TUNNEL HAD SOLAR PANELS, VENTILATION, RAIL SYSTEM
In accordance with U.S. Fish and Wildlife Service protocol, none of the shipments were allowed into the country, the news release said.
"Our agriculture specialists and officers work closely with other federal agencies to protect our natural resources," CBP Supervisory Agriculture Specialist Barbara Hassan said. "In this case, cooperative efforts with the U.S. Fish and Wildlife Service (FWS) prevented the introduction of a highly invasive and destructive species into our ecosystem."
The patterns of this type of crab, such as how they relocate to reproduce and how they keep themselves safe, can cause environmental issues, according to the Washington Department of Fish and Wildlife.
"The crab spend most of their lives in freshwater, then migrate to salt water to reproduce. These massive migrations have clogged fish screens and hampered water delivery in Northern California, the agency explained. "The crabs burrow for protection, weakening levees and increasing erosion of banks. The crabs are know to eat Salmon, Trout and Sturgeon eggs, and may pose a serious threat to ecosystems and fisheries along the West Coast. They may pose a human health threat because they can carry the oriental lung fluke, and are considered a delicacy by many Asian populations, who eat them uncooked."