Ride operator arrested after 5 hurt at North Carolina state fair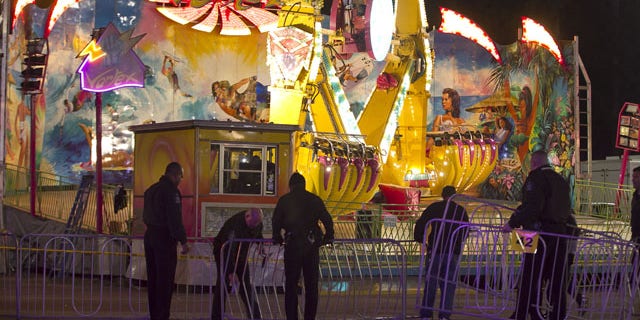 NEWYou can now listen to Fox News articles!
Authorities say that the operator of a ride that injured five people at the North Carolina State Fair has been charged with three counts of assault with a deadly weapon.
Timothy Dwayne Tutterrow, 46, of Quitman, Ga., was arrested Saturday, the fair confirmed in a statement. Wake County Sheriff Donnie Harrison said that investigators believe that the "Vortex" ride was tampered with and critical safety devices were compromised. Harrison added that more arrests could be made.
Officials say that Tutterrow is employed by an independent ride contractor, Family Attractions. The "Vortex" was the only ride the company had at the State Fair, which concludes Sunday. The company told WRAL.com that Tutterow had been employed there for the previous four years.
The accident occurred shortly after 9 p.m. Thursday, when witnesses said the ride -- known for its wild twirls and flips -- suddenly started up after it had stopped and while people were exiting.
Three people are still in the hospital. They were identified as Anthony Gorham, 29; Kisha Gorham, 39; and a 14-year-old juvenile, who is related to the former two.
A witness identified as Caleb Norris told WNCN television that he heard a crashing sound just after getting off the Vortex. He turned around and saw two people lying face down. Norris also said he saw the ride operator fall to his knees and start crying.
Attendance dropped the night after the accident. The N.C. Department of Agriculture and Consumer Services said just over 82,000 people attended Friday, which was more than 10,000 fewer people compared with the same night last year.
The ride is closed for the duration of the fair.
The Associated Press contributed to this report.