Richard Spencer's attorney threatens legal action against KSU
An attorney for white nationalist Richard Spencer is threatening legal action against Kent State University in Ohio for rejecting a proposed speaking event in May.
The school reiterated its refusal to host an event featuring Spencer, who is figurehead of the "alt-right" movement and leader of the National Policy Institute think-tank, the Washington Times reported.
Eric Mansfield, the executive director of university media relations, issued a statement Friday evening that read, "Kent State has responded to Kyle Bristow reaffirming our earlier response that we cannot accommodate this request as no suitable space is available during the April 30-May 12 time frame."
Spencer's attorney, Kyle Bristow, said the university's dismissal of the event is unconstitutional and that he intends to sue.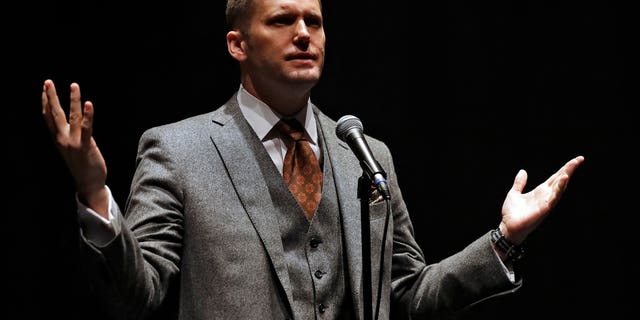 "I will not tolerate left-wing university bureaucrats spitting upon the First Amendment rights of right-wingers," Bristow told The Record-Courier in Kent. "The Constitution trumps their liberal feelings."
Cameron Padgett, a student from George State University, approached Kent State University to lease a space for the event on May 4, coinciding with the 48th anniversary of four students who were fatally shot by National Guardsman.
The director of University Media Relation at KSU said, "we cannot accommodate this request as no suitable space is available during the April 30-May 12 time frame."
Bristow told the Record-Courier, "To borrow a line from 'Game of Throne,' I will make Kent State University's administrators bend the knee like the others. I will bring them all to heel. The First Amendment is nonnegotiable."