Residents help guide geese who stopped traffic as they wandered in downtown Montana city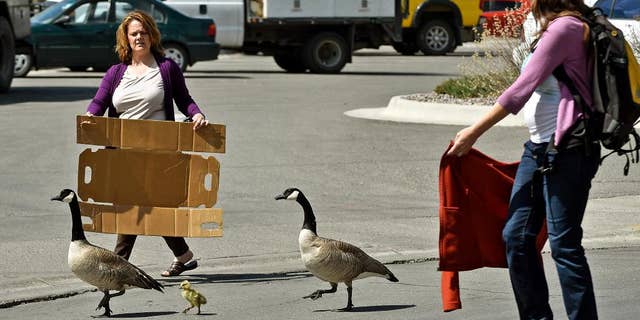 NEWYou can now listen to Fox News articles!
MISSOULA, Mont. – It was no gaggle of geese, but two birds and a baby waddling through a downtown Montana city stopped traffic and brought out the shutterbugs.
The Missoulian newspaper reports (http://bit.ly/1zV1knv ) that it took an hour to guide the trio from the heart of Missoula back to the Clark Fork River on Thursday.
Four women spotted the birds and stopped to help, using cardboard and a sweater to shepherd them safely through town as cars slowed and people snapped photos.
Noreen Humes was working at the Missoula Downtown Association when she noticed the goose family walk past her office. When they seemed to be heading deeper into the downtown area, she stepped in to help.
The birds sped up their waddles as they got closer to the river, swimming away safely.
___
Information from: Missoulian, http://www.missoulian.com