Reporter's Notebook: Soaked Houston recovers from Harvey Part 1, braces for Part 2
HOUSTON – Harvey has drenched Houston, forcing tens of thousands of people from their homes -- and the feeling of helplessness on Monday was palpable.
FEMA says 30,000 people will be displaced. Another 13 million more remain under flood watches and warnings Monday night.
"We had to get water rescued," he said. "They came to the door and everything."
In Montgomery County, the New Katy area is more like a river than a road. People who live there tell Fox News they aren't leaving -- and that, emergency personnel say, is the problem.
In the Grand Vista subdivision, the only way in or out is by boat. But those evacuations will stop as night falls. Capt. Brian Carlisle of the Montgomery County Sheriff's Office says he's been conducting water rescues all day but says that will end soon once it gets darker, citing the risk of injuries during nighttime boat rescues.
In northeast Houston, the "Cajun Army" has come to town. Ben Paderick and his pal from Galveston brought their boat and has rescued about "20 or so" people.
"It's a sad situation," he said.
Paderick's been working alongside first responders and other civilians like Robert Flickman trying to rescue people.
"I got tired of seeing people suffering," Flickman, a lawyer, said. "This is our city."
In my hotel on the west side, weary lodgers felt the uneasy resignation that comes from surviving an early battle in a long war. We were all grateful to have done so in relatively comfortable conditions.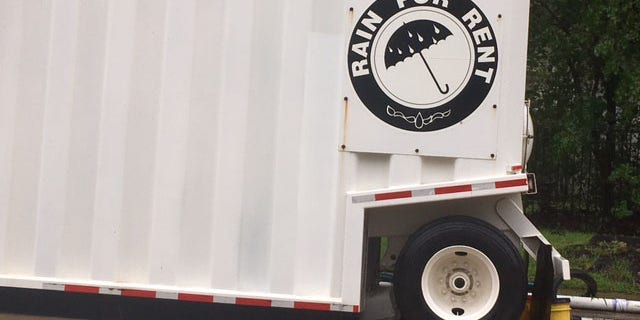 Not everyone landed in a hotel lobby: Thousands of evacuees were whisked to schools, stadiums and the George R. Brown Convention Center, on Avenida de las Americas.
As rescue efforts played out around the city, folks on higher ground fought for some semblance of normalcy. No amount of rain was stopping the manicurists at Nail'Ori, on San Felipe Street, from coming in. Kimberly Quang said she came to work because "it's better than sitting at home." And there were customers to attend to, after all.
"Oh lord, can you wait 30 min before putting it on the news?" one patron said. "The minute people hear this place is open, they're going to flood this place."
William Staib, owner of Unit Cargo Container, summed up the feelings of a city as he surveyed falling rain and rising floodwaters.
"The worst might be over, but the water levels are rising," said Staib, who has a condo in Houston that has not flooded but a house in hard-hit Katy that he's concerned about.
In between fording vast bodies of water where roads once stood, I spotted a giant white truck with the words "Rain for Rent" emblazoned on the back. One would not think there is much of a market for their services in Houston right about now, but it turns out the company "is a leading provider of temporary liquid handling solutions including pumps, tanks, filtration and spill containment.
San Antonio resident Penn Riche, waiting in a 30-minute line that snaked past a Burger King drive-thru, said he was visiting friends in Houston when Harvey hit. He's not sure how his house is doing and hasn't been able to speak to his neighbors. As he waited for his meal, he was resolute about a whopper of a storm that so far has had its way with Houston.
"Look, at the end of the day, I'm alive," he said. "Harvey packed a punch but Texas will punch back harder."