Report of smoke on American flight forces passengers to use emergency slides in Denver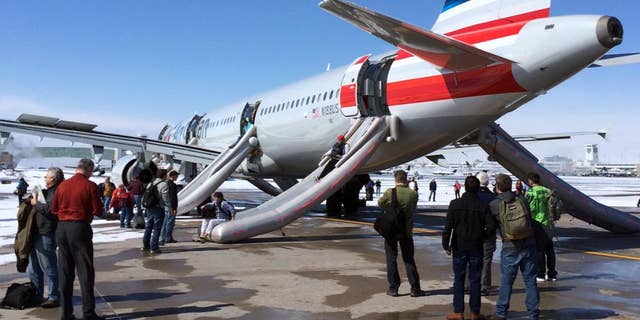 NEWYou can now listen to Fox News articles!
DENVER – Passengers on an American Airlines flight from Charlotte, North Carolina, had to slide off the plane on emergency chutes after landing in Denver.
The plane, operated by U.S. Airways, was taxiing to the gate at Denver International Airport when smoke was reported in the aircraft just before noon on Wednesday. Airport spokeswoman Mindy Crane said the captain ordered that the chutes be activated, and 158 passengers slid down to safety. Crane said they were taken by bus to the concourse.
One minor injury was reported, but it wasn't immediately clear how that person was injured.
Crane said no sign of a fire was found inside the plane and exactly what happened remains under investigation.