Report: NYC Sanitation Supervisors Ignored Duties to Drink Alcohol During Blizzard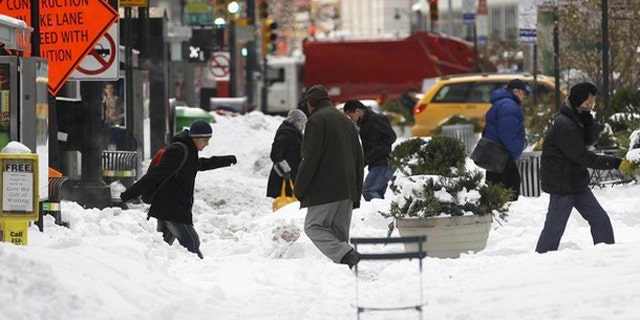 Instead of plowing, they got plowed.
A group of New York City Sanitation supervisors is under investigation for allegedly buying booze and chilling in their cozy department car for hours Monday night after the blizzard stranded a bus and three snowplows blocks away.
The city's Department of Investigation is probing the incident after witnesses said four snow blowers blew off their duties to get blitzed, buying two six-packs of beer from a Brooklyn bodega. The workers then walked five blocks to their car, which was in 20 inches of snow in the middle of 18th at McDonald avenues near the F train entrance, passing the stuck bus and idle plows on 18th Avenue between Third and Fourth streets.
The four remained in the idling sedan until morning -- then told their bosses they could do nothing about the blizzard because they had run out of gas, one witness said.
"They just sat in their car all night with the heat running," the witness said.
Customers who saw the group buying beer at the Ocean Mini Mart at 3917 18th Ave. in Kensington shouted at the workers.
"They were saying, 'How can you do this? You should be outside!' " a witness told The Post.
Click here to read more on this story from the New York Post