Report: Lack of command stymied response to airport shooting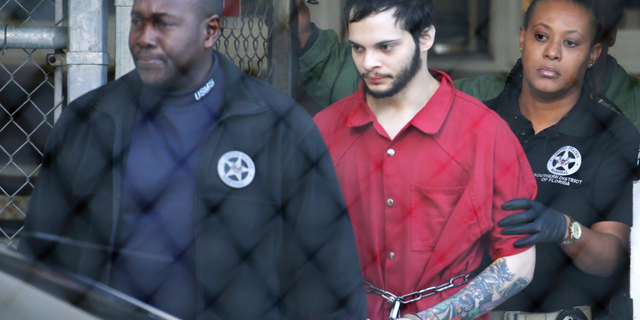 FORT LAUDERDALE, Fla. – Law enforcement command and communication systems broke down following last January's deadly shooting at a Florida airport, leading to confusion and eventually panic as a false report of a second gunman spread among officers, passengers and employees, a report released Tuesday says.
The Broward County report, prepared by an outside consulting firm, shows the extent of the chaos that reigned at Fort Lauderdale-Hollywood International Airport in the minutes and hours after the Jan. 6 shooting that left five people dead and six wounded. About 2,600 law enforcement officers from throughout South Florida rushed to the airport, but the Broward Sheriff's Office didn't take adequate control of the response, the 82-page report says. Without a plan or system to deploy them, most deputies and officers were stranded outside the airport and their presence overwhelmed the radio and cellphone systems.
"Most of the law enforcement personnel who responded lacked clear instructions, objectives and roles," the report says. It also said there was initial confusion about what role the FBI played in the investigation -- shootings at airports are a federal crime.
Broward County Sheriff Scott Israel strongly disputed the report, saying he, airport manager Mark Gale and the FBI agent in charge quickly took command of the situation shortly after the shooting. He conceded he hadn't read the report, saying he had received it Monday night.
"It's just not accurate," Israel told a press conference Tuesday. "Critics are going to criticize, but I was out there." He admitted there was no plan for staging and deploying that many officers at the airport, but said a lot of the confusion and perceived lack of command was caused by the overwhelmed radio system. He said staging plans are being improved and a new radio system is being purchased.
"Command was unified, we knew what was going on (but) it wasn't perfect," he said.
Authorities say Esteban Santiago, an Iraq war veteran from Anchorage, Alaska, flew to Fort Lauderdale with a 9mm handgun in a box he put in checked luggage. After landing he retrieved the weapon, loaded it in a bathroom and came out firing randomly in a crowded baggage claim area until he exhausted his ammunition. He surrendered 85 seconds after the first shot was fired. The report praises the initial response and capture of Santiago, who admitted the shooting to investigators.
But chaos broke out again 90 minutes after Santiago's barrage when false reports of a second shooter sent people stampeding, injuring 40. The report says that could have been largely avoided if police officers had earphones to listen to their radios without civilians overhearing them.
More than 12,000 passengers were at the airport during the shooting. Many of them ran out through emergency exits onto the airfield after the false second report. There was also terror caused by plainclothes police and deputies, some wearing masks to protect their identities, running through the airport with their guns drawn as they responded to the false report. That could have resulted in uniformed officers accidentally shooting them.
Overall, Israel, Gale and county officials said they are proud of the response but will implement the report's 132 recommended changes as needed.
"It is clear we have some work to do," Gale said. "That is not to say we performed poorly that day, not by a long shot. But we do recognize that as professionals we need to continually improve our performance."
The FBI says Santiago admitted committing the shootings in recorded interviews with agents. His federal trial has been delayed until at least January as prosecutors decide whether to seek the death penalty. Santiago, a diagnosed schizophrenic, told FBI agents he acted under government mind control and then claimed inspiration by the Islamic State extremist group. No terrorism links have been found.