Rent a tent: Startup matches landowners with campers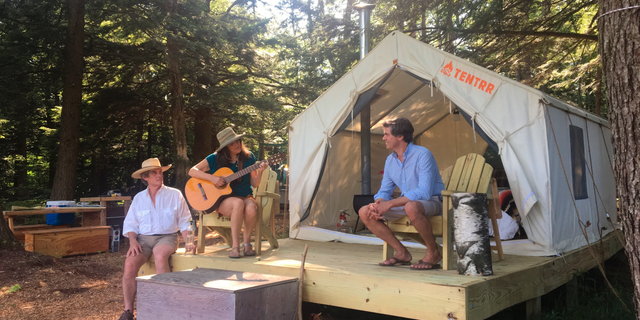 BERLIN, N.Y. – The idea came to Michael D'Agostino as he was driving past a beautiful farm and imagined what it would be like to camp there.
"It was a lightning-bolt moment," said D'Agostino, who left his job in finance three years ago to launch the startup Tentrr, which matches landowners looking for extra cash with vacationers yearning for solitude under the stars. Think of it as Airbnb for the great outdoors.
Since it began, Tentrr has spread from a smattering of campsites in New York's Catskill Mountains to nearly 500 sites across the Northeast. Backed by $15 million in venture capital, the New York City-based company is aiming to expand across the country, with sites opening soon in southern California.
Here's how it works: A farmer or other landowner with a secluded and scenic spot that would make a lovely campsite pays Tentrr $1,500 to outfit the camp with a white safari tent and other gear and list it online. The landowner receives 80 percent of bookings, which cost upward of $100 per night.
"We get about 60 inquiries a day from people who want to have campsites on their property. We're building them as fast as we can," said D'Agostino. "But before we accept a site, we send a scout with a 20-point checklist."
The site must be accessible and spacious, generally about 12 acres. It must be quiet, private and steeped in natural beauty, whether fragrant forest, mountain vista, waterfall or placid pond.
"We look for a 'wow' factor where you're going to be overwhelmed by the place," said D'Agostino, who lives in Manhattan and has a Tentrr site near his upstate weekend home 110 miles (177 kilometers) north in rural Bovina.
Many of the camp hosts are farmers eager to derive another source of income without investing a lot of money or having the hassle of running a bed-and-breakfast.
"We had been thinking of maybe building tiny homes to rent," said David Derstine, who runs a 200-acre (81-hectare) organic farm with his wife, Leila, in rural Berlin, New York. "We got a flyer in the mail from Tentrr. They had an awesome platform where they provide the entire reservation system, liability insurance and infrastructure and you're just letting people use your land."
Derstine, 35, said he figures he can earn $4,000 to $6,000 in a season from his Tentrr campsite on a wooded hilltop overlooking the Taconic Mountains.
Robert McCracken, a physician in Sand Lake, New York, near the Massachusetts border, hopes to earn enough with Tentrr to cover the property taxes on his 80 acres (32 hectares) of forest, meadow and wetland.
Tentrr isn't the only outfit cashing in on a consumer trend toward "experiential travel" as an alternative to hotels. Collective Retreats, based in Denver, Colorado, leases land on mountains, vineyards and even Manhattan's Governor's Island for luxurious glamping tents. Campspace, based in Leiden, the Netherlands, and Hipcamp, based in San Francisco, provide online portals to search for and rent private campsites.
While you need your own tent for most sites on Campspace and Hipcamp, Tentrr sites have the basic necessities: canvas tent from Denver Tent Co.; five-person popup tent; and wood deck, Adirondack chairs, table, box toilet and cabinets from Tentrr's factory in Oneonta. The intent was to give Tentrr sites a distinctive brand.
"If you go to a Westin Hotel, you know you'll get the Heavenly Bed, the aspen leaf soap, the nice place to eat in the lobby," D'Agostino said. "We wanted the same kind of thing. No matter what Tentrr site you go to, whether in the Adirondacks or Arizona or the Big Sur, you get the same thing — it's your base camp for whatever you want to do."