Remains of crew from downed World War II-era plane located in Pacific Ocean
The decades-long wait to find the wreckage of a World War II-era aircraft and remains of its 11 crew members came to an end on Saturday for a group of families gathered in Minnesota.
The B-24 bomber named "Heaven Can Wait" with 11 crew members on board was shot down on March 11, 1944 while on a bombing mission in Papua New Guinea. The wreckage of the plane sat in 200 feet of water for decades until it was discovered last fall by a team with Project Recover.
As part of a celebration of the discovery and to thank the people behind the search efforts, family members of the crew members met at a high school in Victoria, Minn., on Saturday.
"To see these people face to face and thank them for what they are doing and what they've done, it's beyond words," Jim Emmer told FOX9.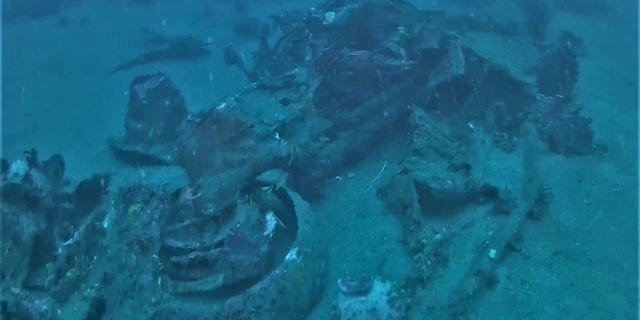 Emmer was born three years after his uncle, then 26-year-old John Emmer, was reported missing when the aircraft was downed.
"There's some closure to it," Emmer told FOX9. "A sense of togetherness and family through this. It's a fun experience. I wish everyone could go through something like this to become spiritually attached to someone you never met. That's what happened with me."
AMERICA'S DEADLIEST BATTLE: WORLD WAR I'S MEUSE-ARGONNE OFFENSIVE 100 YEARS LATER
Project Recover, which formed two years ago, works to find the final underwater resting places of Americans missing in action since World War II to provide recognition and closure for families. Nearly 72,000 soldiers from World War II are still missing in action.
The team from Project Recover went through years of research about the crash compiled by family members of one of the crew members seeking closure. The data included "historical eyewitness narratives from official military reports," in addition to diary entries from crew members on other aircraft in formation with the B-24 during its flight."
"This is fuel for me to keep the mission going," co-founder of Project Recover Mark Moline told FOX9. "When I see the faces of the families it sort of reassures me I'm doing a good thing and gives me energy to work on the next case."