Relatives of murdered Ohio family believe two properties had security cameras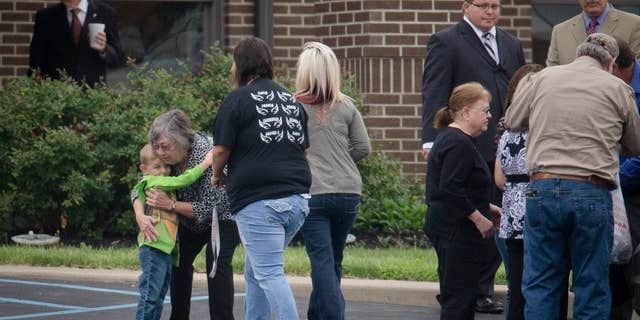 NEWYou can now listen to Fox News articles!
Surviving relatives of an Ohio family who was murdered last month said Tuesday there may have been cameras at two of the locations where bodies were found.
Ohio Attorney General Mike DeWine said authorities received video in the killings of seven adults and a 16-year-old boy who were found on April 22 at four different locations near Piketon.
"We reached out to people initially that we thought might have video," DeWine told reporters at his Cincinnati office, according to the Cincinnati Enquirer. "We were able to obtain some video."
DeWine and Pike County Sheriff Charles Reader urged anyone who recorded video nearby on April 21 or 22 to contact their offices. The request includes, but isn't limited to, any video from the night of April 21 or the morning of April 22 that shows vehicle movements in the area, DeWine said.
DeWine called the request "an attempt to get anything that has been missed," The Cincinnati Enquirer reported.
Investigators also ask that anyone with information that might help solve the shootings call the state Bureau of Criminal Investigation tip line at 1-855-BCI-OHIO.
Leonard Manley, the father of Dana Rhoden, said his former son-in-law Christopher Rhoden Sr. had at least two video cameras mounted on a building near the entrance of his trailer and when anyone would come up his driveway, a light would turn on.
Manley told the Cincinnati Enquirer he believes Christopher Rhoden Sr. kept his security cameras on all the time, but didn't know whether police had obtained footage from the cameras.
Bobby Jo Manley, Leonard Manley's youngest daughter, told the paper that Kenneth Rhoden had video cameras at his trailer and she said she knew they were there because she used to clean his property. She told the paper she was unsure whether police obtained footage for his cameras.
DeWine declined to comment on potential video received from the Rhoden properties.
Investigators say they've received more than 500 tips and done over 130 interviews as they try to determine who targeted the Rhoden family and why.
A coroner said all but one of the victims were shot more than once.
The discovery of marijuana growing operations at three of the four crime scenes stoked rumors that the slayings were related to drugs, but that's only one of many theories about possible motives that have circulated.
The victims were identified as 40-year-old Christopher Rhoden; his ex-wife, 37-year-old Dana Rhoden; their three children, 20-year-old Clarence "Frankie" Rhoden, 16-year-old Christopher Jr., and 19-year-old Hanna; Frankie Rhoden's fiancée, 20-year-old Hannah Gilley; Christopher Rhoden Sr.'s brother, 44-year-old Kenneth Rhoden; and a cousin, 38-year-old Gary Rhoden. Hanna Rhoden's days-old baby girl, another baby and a young child were unharmed.
The Associated Press contributed to this report.
Click for more from the Cincinnati Enquirer.