Red tide along Florida coast has killed at least 300 tons of fish
As red tide continues to choke the southwest Florida coast, large amounts of dead fish are washing up on the region's white sand beaches. Some municipalities are contracting with temp agencies to staff the massive cleanup effort.
"Since our contractor has been on the island, he started August 1, we collected about 300 tons of fish from the beach," said Scott Krawczuk, deputy director of public works for the City of Sanibel.
The carcasses washed up on the beach range in size from small bait fish to a 26-foot-long whale shark. And while red tide poses the biggest threat to animals that consume the toxins the microscopic algae release in the water, just breathing air near the shore can be difficult, even for healthy humans.
"I think it is affecting me a little bit," said Diana Schonberger, a tourist visiting Sanibel from Ohio. "I can tell there's a little irritation in my throat, coughing."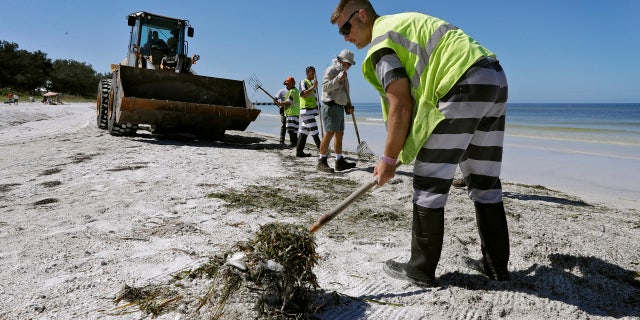 Earlier this week, Gov. Rick Scott issued a state of emergency for seven Gulf Coast counties in the path of the red tide bloom. This frees up additional funding for economic development, recovery and research. The research funding includes a grant to Mote Marine Lab and Aquarium, which is responding to an increased number of calls reporting dead or distressed sea animals.
"We average 100 turtles a year and about 10 to 15 dolphins a year," said Gretchen Lovewell, who leads Mote's Stranding Investigations Program. "We're seeing our annual averages in less than a month, sometimes less than a week. It's been pretty trying for our team."
This week, Mote researchers began field testing a new system designed to remove red tide from smaller waterways with limited tidal flow.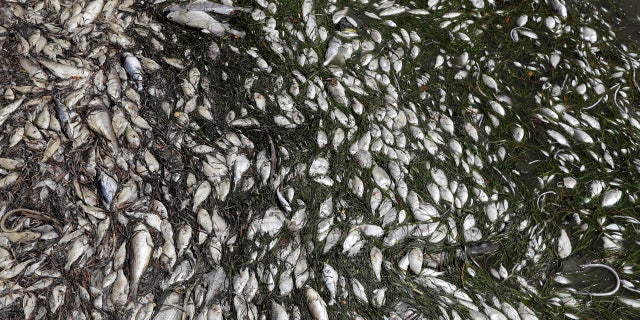 Installed at the dead end canal in Boca Grande, the system pumps in contaminated water. It uses a chemical reaction involving ozone to destroy the red tide algae and toxins. The system then returns purified water to the canal and restores oxygen levels as well.
"We're studying red tide. We're trying to understand what causes it," said Richard Pierce, associate vice president for research at Mote. "We know it's natural. It's been around for thousands of years. But what can we do about it? That's the big question."
Scientists still can't say when the red tide will go away. Now in its tenth month, this is the longest bloom southwest Florida has experienced in more than a decade. However, Pierce recalls an earlier red tide bloom that lasted for 18 months.
Producer Ivonne Amor contributed to this report.