Red Sox manager Alex Cora blasts Trump tweets on Puerto Rico death toll, calls them 'disrespectful'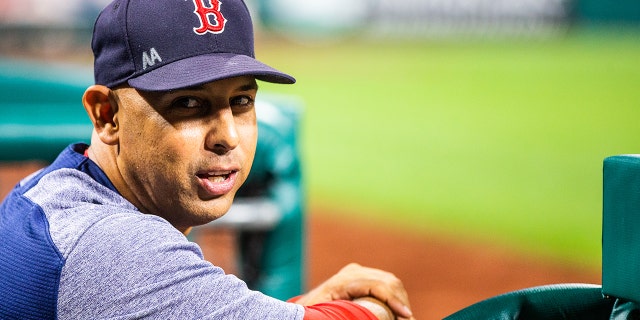 Boston Red Sox manager Alex Cora said Thursday that it was "disrespectful" for President Trump to refute an official report that raised the Puerto Rico death toll from last year's Hurricane Maria to nearly 3,000 people while claiming that Democrats inflated the count.
Cora, 42, a native of Puerto Rico who became Boston's manager this season after a 14-year playing career, said he respects the president, but expressed his displeasure with how the natural disaster had become a "political issue," the Boston Herald reported.
"To be tweeting about 3,000 people and be efficient, it's actually disrespectful for my country. … And like I said, hey man, thank you for helping us. He went down there, he did what he did. I hate talking about politics and all that, but I think this is more than politics," Cora said. "This is about a country that really suffered, we still, you see the hurricanes forming now. Everybody's panicking. It's not easy."
The Red Sox manager pointed out how his team, and other Major League Baseball clubs, helped in the relief efforts, and acknowledged that conditions in Puerto Rico are improving every day.
"We're better than yesterday. We keep getting better," he said. "And it's just a matter of time for us to be that enchanted island, like back in the day."
Cora's comments came as the U.S. braces for Hurricane Florence, which is expected to cause heavy damage as it slams into the Carolinas this week.
Earlier Thursday, Trump sparked controversy when he addressed his administration's response to Hurricane Maria, the Category 4 storm that devastated Puerto Rico last September.
"When I left the Island, AFTER the storm had hit, they had anywhere from 6 to 18 deaths. As time went by it did not go up by much. Then, a long time later, they started to report really large numbers, like 3000," Trump tweeted.
He added: "This was done by the Democrats in order to make me look as bad as possible when I was successfully raising Billions of Dollars to help rebuild Puerto Rico."
George Washington University, which released the study that estimated 2,975 died in Puerto Rico as a result of Hurricane Maria, said Thursday that the school stood by the study and was "confident" of the number's accuracy.
"This study, commissioned by the Government of Puerto Rico, was carried out with complete independence and freedom from any kind of interference," the university said in a statement.