Rare split-colored lobster caught off coast of Maine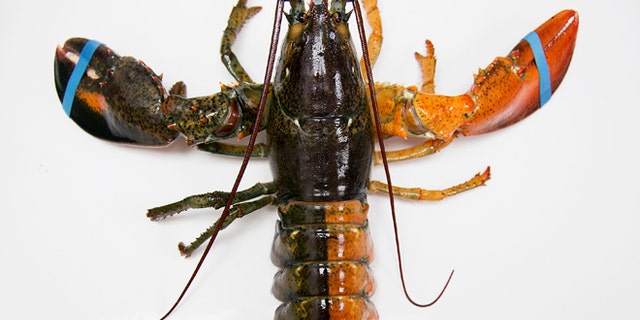 NEWYou can now listen to Fox News articles!
An extremely rare orange-brown split-colored lobster turned up off the coast of Maine last week.
The Press Herald reports the unusual lobster arrived at Pine Point Fisherman's Co-Op in Scarborough.
This lobster resembles a split lobster, which is usually orange on one side and brown on the other. However, this particular creature is mostly brown, but its tail is split down the middle. One claw is orange and the other brown.
The Maine coast has seen its share of blue and orange lobsters but the chance of finding one of these split-colored lobsters is one in 50 million, according to the Lobster Institute.
The institute reports that only the albino lobster is rarer, with the chances of catching it at one in 100 million.
A similar lobster was caught in Maine two years ago by lobsterman Jeff Edwards. It was donated to the Gulf of Maine Research Institute by Ship to Shore Lobster Co. in Owl's Head.
The Associated Press contributed to this report