Rare goblin shark reportedly caught off Key West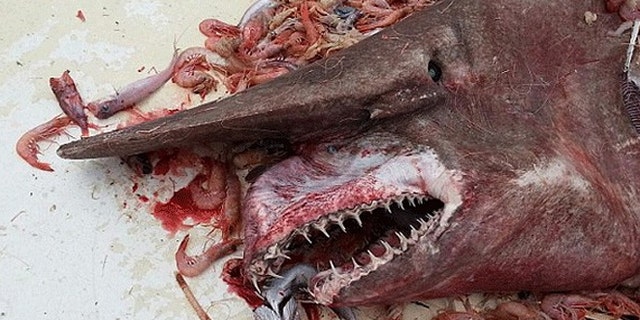 A rare goblin shark was caught last month off the coast of Key West, Fla., in what biologists are calling "an important scientific discovery," since it is only the second of its kind ever caught in the Gulf of Mexico.
"I never seen something so ugly in my life," Carl Moore, a commercial fisherman who has been a shrimper for 50 years, told KeysNet.com. He went on to say the shark's teeth "were so wicked looking" that he told his crew to avoid going near it.
The April 19 catch was announced Friday because it was just brought to the attention of the National Oceanic and Atmospheric Administration, The Houston Chronicle reported. The pink shark, which was estimated to be about 18-feet long, is usually spotted in the deep waters off the coast of Japan
This fish was reportedly pulled in with a barrel full of shrimp about 2,000 feet below the surface.
"This is great news," John Carlson, a shark expert at NOAA, told The Chronicle. "This is only the second confirmed sighting in the Gulf, the majority of specimens are found off Japan or in the Indian Ocean and around South Africa."
Carlson told the paper that, judging by the picture, he believes the shark was a female. The fish was released by Moore's crew, so further tests could not be done.
"That's my ocean out there and anything in it concerns me..I know the value of trying to preserve things," Moore told The Chronicle.