Ramped up security at Las Vegas marathon after mass shooting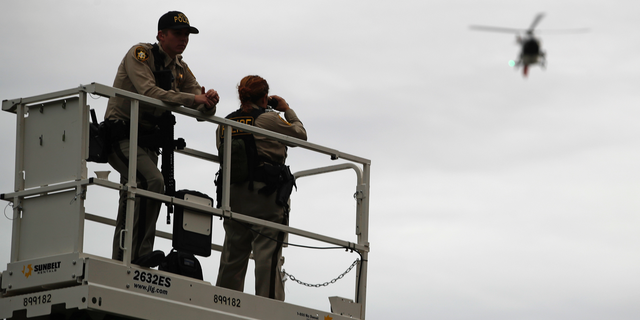 LAS VEGAS – Las Vegas ramped up security for the annual Rock 'n' Roll Marathon, which was the first major outdoor event on the Strip since the mass shooting.
The city posted snipers and used a helicopter to watch for danger as tens of thousands of people participated in the race. Many wore T-shirts that read "Vegas Strong," in memory of the Oct. 1 attack.
Some runners who picked up their race packages Thursday at a convention center mentioned defiance, strength and resilience among their reasons to take part in the event less than two months after the deadliest mass shooting in modern U.S. history rattled a city known for its partying atmosphere.
With an American flag pinned to his shirt, Ben Rumph, who lives in the Las Vegas suburb of Henderson, said he never considered canceling his participation after the shooting. The 80-year-old U.S. Navy veteran had trained year-round to run the half marathon for the 10th time.
"The shooting was an entity, an event, by itself. I was going to run whether that happened or not," Rumph said. "I'm a veteran. I stood up and raised my hand that I would either kill some people or be killed to protect what we have in this country. My decision is to do the same thing today. I don't mean to go kill or anything like that, but to stand up for that principal."
Another half marathon participant, Esther Reincke ran to honor a friend who was killed during the massacre. Reincke said 28-year-old Cameron Robinson, who she described as a happy and "wicked smart" guy, had been part of her team in a 200-mile relay race last year. They both met while working for the city of Las Vegas.
"It is still hard to believe not only that this event happened in our city, but for it to hit home that close, he was one of our co-workers and a friend of mine," Reincke, 60, said. "I'm running because Cameron can't. He loved running and that's kind of my connection to him. When I get my Vegas Strong shirt, I'm going to have his name somewhere front or back."
The start of the marathon is usually outside Mandalay Bay, where Stephen Paddock unleashed gunfire from a 32nd-floor suite. Because of security concerns, the start line was moved a mile north.
Capt. Andrew Walsh said about 350 officers were working and were aided by a helicopter. Large city vehicles were positioned at key intersections to prevent anyone from driving onto the course.
Gilles Rubio prevailed on the men's side Sunday with a blistering time of two hours, 38 minutes and four seconds. Americans Karel Burger and Tyler Pence finished in second and third place, respectively, with times of 02:41.27 and 02:43.55.
Marisa Hird, also an American, won the women's field with a time of 02:55.19.