Ralph Lauren hands off CEO role to Old Navy executive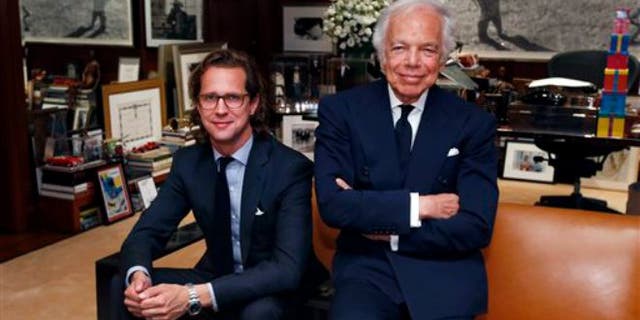 NEW YORK – Ralph Lauren is handing off his title as CEO of the fashion and home decor empire that he founded nearly 50 years ago.
The New York-based company announced Tuesday that Stefan Larsson, the global president of Gap's low-price Old Navy chain, will take on the role. The change will be effective in November, and Larsson will report to Lauren who will continue to drive the company's vision and strategy as executive chairman and chief creative officer.
As global president of Old Navy for three years, Larsson remade the business into a bright spot in Gap's portfolio. Prior to his tenure at Old Navy, Larsson was part of an executive team at Swedish cheap chic fashion chain H&M for 15 years that increased annual revenue from $3 billion to $17 billion. During that time, H&M's operations grew to 44 countries from 12.
In an interview with Lauren in his wood-paneled office in Midtown Manhattan, the iconic 75-year-old designer emphasized that he's not slowing down but sees Larsson as a partner as the company spearheads future sales growth.
"I am here, and I am not leaving," said Lauren. "Stefan is coming to the company because I really believe he's going to be an interesting addition."
Asked whether he chose Larsson because of his success in fast fashion, Lauren acknowledged he was a good businessman but more importantly they shared a common vision.
"He understands what dreams are," Lauren said. "In this business, it's about dreams because you are dreaming ahead and you're about progress and change and newness."
Lauren knows all about dreams. Lauren, who started the company 48 years ago selling ties, has built an empire that includes women's, men's and children's clothing, home decor, accessories and now restaurants. In the latest fiscal year ended in March, Ralph Lauren Corp. generated sales of $7.5 billion.
The company has been looking to expand its business by adding three new brands over the past two years: Polo for Women, Polo Sport and Denim and Supply. The company has also been beefing up its online presence.
During the interview, Lauren and Larsson said they are looking for more growth opportunities in China and Europe as well as pushing for more growth in the e-commerce business. They also noted there's a lot of room to grow with the three new brands.
Ralph Lauren also announced that Jackwyn Nemerov, president and chief operating officer, will retire in November, at which time she will become an adviser to the company.
Gap Inc., based in San Francisco, said Jill Stanton would lead Old Navy in the interim while it searches for a permanent replacement. Stanton is currently executive vice president of global product at Old Navy.
Ralph Lauren's shares slipped 83 cents to close at $104.05, but rose nearly 5 percent, or $5.19 to $109.24 in after-hours trading. Gap Inc. shares slipped more than 3 percent in extended trading, to $29.20.