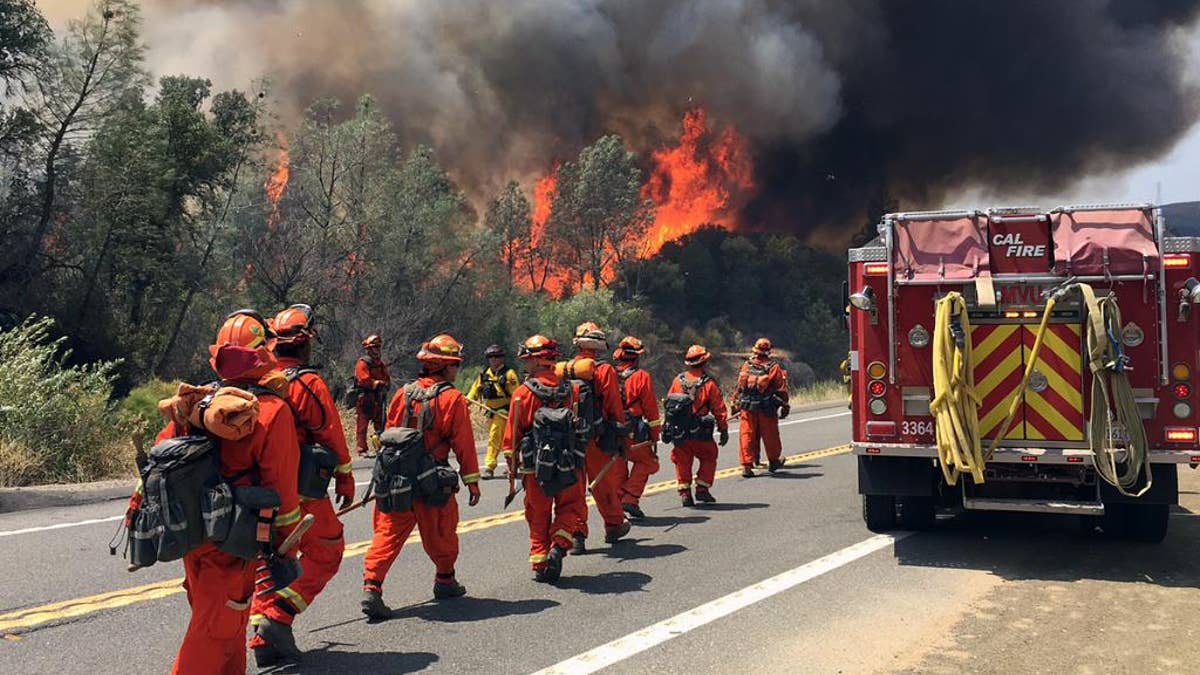 LOWER LAKE, Calif. – Fire officials called for thousands of evacuations as numerous homes remained threatened by Northern California wildfires Monday, while more than 9,000 firefighters battled 21 major fires in the state, officials said.
Wildfires were also burning in Washington and Oregon as the West Coast suffered from the effects of drought and summer heat.
The largest California wildfire was raging in the Lower Lake area north of San Francisco. It nearly tripled in size over the weekend to 84 square miles.
The fire has destroyed 24 homes and 26 outbuildings and was threatening 6,300 homes, many of them ranches scattered in rural areas ranging from grasslands to steep hills, officials said.
Officials have ordered 12,000 people to evacuate homes, the Sacramento Bee reported (http://bit.ly/1Ie4toA ). Several roads have been closed.
Fire officials "are calling the behavior of this fire unprecedented," state fire spokesman Jason Shanley told the newspaper. "It is jaw-dropping to see some of the things it is doing."
"Everyone we know that lives down there, they have nothing anymore. It's just crazy," Nikki Shatter of Clear Lake told KCAL-TV.
Even though the temperature dropped into the 80s Sunday and the humidity was up, the fire continued to advance.
"We chewed up a couple of thousand acres" in a single day but no additional homes were lost, state fire spokesman Jay Smith said.
There also has been a human toll from the wildfires.
One firefighter was killed at the scene of a fire at the Modoc National Forest, 100 miles south of the Oregon border, and four other were burned in a blaze near Sacramento.
Many of the California blazes were sparked by lightning. The danger was expected to continue with scattered thunderstorms and gusty winds forecast for some areas of Northern California into Monday, state fire spokesman Daniel Berlant said.
That left it an open question whether fire crews would be able to make significant progress on the largest wildfires.
"It depends on mother nature, whatever she has in store," Smith said.
___
FIREFIGHTER KILLED
Engine Capt. David Ruhl, from South Dakota, was killed battling a fast-moving blaze that broke out Thursday in the Modoc National Forest about 100 miles south of Oregon.
Ruhl was in a vehicle Thursday, looking for ways to fight the blaze, when officials lost contact with him, fire information officer Ken Sandusky said. His body was recovered Friday.
An autopsy to determine the cause of death will be conducted this week, the U.S. Forest Service said.
Ruhl, part of a Black Hills National Forest firefighting team, had been helping California firefighters since June.
The fire had grown to about 6 square miles Sunday, and it was 20 percent contained.
___
FIREFIGHTERS INJURED
Three firefighters who were burned on a fire northeast of Sacramento on Saturday have been released from the hospital. One has returned to duty and all are expected to make a full recovery, fire officials said.
A fourth firefighter remains hospitalized with serious burns.
The fire that began on July 25 destroyed two buildings and 54 homes and other buildings are still considered at risk in Placer and Nevada Counties. The 3 ½-square-mile blaze is 85 percent contained.
___
LIGHTNING FIRES
In Humboldt County, 600 firefighters were battling 18 small blazes Sunday that were sparked by lightning. At least 70 fires have been reported in the area since Thursday. Of those, 52 have been contained, Cal Fire said.
The blazes have charred 2,000 acres and destroyed two structures in steep, difficult to access terrain.