Raging blaze burns a dozen storefronts in New York; 3 firefighters injured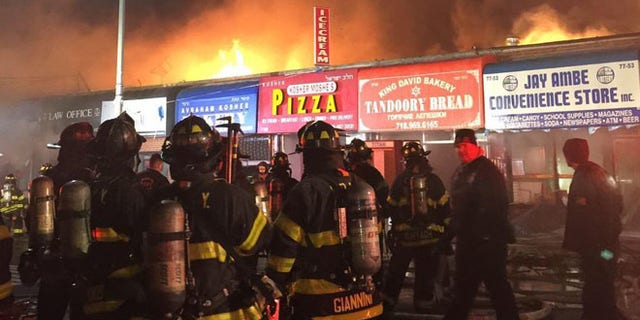 A fire destroyed more than a dozen storefront businesses on a block in New York City and injured three firefighters.
The Fire Department of New York says about 180 firefighters were called to the blaze Friday night in the Kew Gardens Hills neighborhood in Queens.
Flames surged through the roofs of shops in a one-story commercial strip on Vleigh Place. The fire department tweeted a photo of firefighters dousing the roof from a firetruck's elevated bucket.
The block includes a pizzeria, a law office and kosher food stores.
The fire department says three firefighters were treated for non-life-threatening injuries, though one has more serious injuries than the others.