Rachel Dolezal disinvited from Baltimore Book Festival after public backlash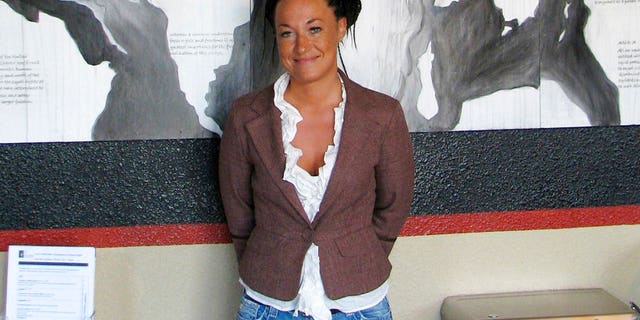 Organizers for the Baltimore Book Festival announced Tuesday they disinvited Rachel Dolezal, the controversial white woman who represented herself as African American for years, to this year's event after receiving major public backlash.
Festival organizers released a statement on its Facebook page, citing reaction from attendees and authors as the reason for rescinding Dolezal's invitation.
"A top priority of the Baltimore Office of Promotion & The Arts is to listen to our constituents, and after hearing from a cross-section of opinions on having Rachel Dolezal participate in this year's festival, we had to consider how her appearance may affect both the audience and the other extraordinary authors we have planned for the Baltimore Book Festival," the statement read.
"For that reason, we believe it is appropriate to remove Ms. Dolezal from the festival lineup," the statement concluded.
RACHEL DOLEZAL, WHITE WOMAN WHO IDENTIFIES AS BLACK, NOW JOBLESS, MAY SOON BE HOMELESS
Dolezal was initially invited to the September festival to read her autobiography, "In Full Color: Finding My Place in a Black and White World." Organizers initially defended their decision to have the controversial figure at the festival when it was first announced last week.
"The Baltimore Office of Promotion & the Arts does not agree or disagree with the many authors that have appeared on the festival's stages for more than 20 years, but we do provide a platform for relevant and multi-layered conversations," they said in a statement posted last Thursday. The Baltimore Book Festival has hosted more than 3,000 writers in the past.
Many followers and attendees, however, were not pleased about the addition.
"Bad decision to include Dolezal," one woman said on Facebook.
"Rachel Dolezal is a big red flag. Not attending any event that she's been invited to. Are you paying her as well? I certainly hope not," another person said.
An online petition circulated soon after the announcement, calling the invite as "racially insensitive," according to The Baltimore Sun. The petition garnered more than 100 signatures by Tuesday morning.
"I saw it as a bad publicity stunt that was really hurtful to a community that has already suffered enough," petition organizer Kimberly Mooney told the newspaper.
Dolezal grabbed national attention in June 2015 when a local television crew asked her on camera if she was African American. Soon after, photos of Dolezal when she was young with pale skin and blonde hair surfaced. Dolezal was formerly the leader of the National Association for the Advancement of Colored People (NAACP) chapter in Spokane, Wash. She was also accused of falsifying multiple reports of hate crimes.
Dolezal revealed to The Guardian in February that she has been rejected for 100 jobs, only receiving offers to do reality TV and pornography films. Her autobiography was turned down by 30 publishers before someone accepted it.