Q&A: Things to know about wildfires in California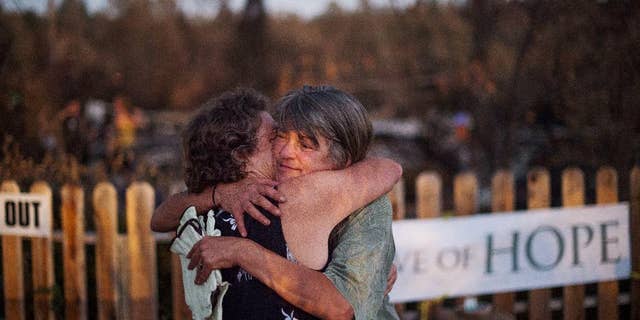 NEWYou can now listen to Fox News articles!
SAN FRANCISCO – A pair of deadly wildfires in California has destroyed at least 1,700 homes and killed five residents, ranking among the most destructive fires in state history.
They were among nine wildfires being battled Tuesday by more than 10,000 firefighters throughout the state.
Here are some questions and answers about California's deadly wildfires.
____
WHERE ARE THE DEADLY FIRES?
A wildfire in Lake County, about 90 miles north of San Francisco, has killed three people since it started Sept. 12. A blaze in Calaveras and Amador counties, about 125 miles east of San Francisco, has killed two people since Sept. 9.
Another fire that began Saturday was burning in Monterey County, about 120 miles south of San Francisco.
____
HOW MANY PEOPLE HAVE BEEN AFFECTED?
More than 30,000 people were ordered to evacuate in the two fires that have destroyed 2,800 structures, including at least 1,700 homes. Most of that destruction was in Lake County, where more than 1,200 houses and apartment complexes burned.
Evacuation orders have been lifted, with many residents returning to houses that were destroyed or too damaged to occupy. Displaced families were bunking with friends or relatives or staying in trailers.
____
HOW MUCH LAND HAS BURNED?
The two fires have scorched 230 square miles.
____
ARE THE FIRES UNDER CONTROL?
The Lake County fire was about 75 percent contained, while the fire in Calaveras and Amador counties was 80 percent contained. Combined, they were still threatening 9,500 structures.
__
HOW DID THE FIRES START?
Causes remain under investigation.
___
WHAT'S FUELING THE FIRES?
With California in its fourth year of drought, the wildfires are feeding on tinder-dry brush and trees. An estimated 25 million trees have died due to drought, including those killed by bark beetles, becoming fuel for flames.
___
HOW BAD HAS FIRE SEASON BEEN?
The state fire agency has responded to 1,600 more fires than the average from January to mid-September. In a usual year, the fires would have charred about 133 square miles but this year, that number is 344 square miles.
State and federal agencies have responded this year to 7,000 wildfires that have burned a total of more than 1,000 square miles.
___
IS FIRE SEASON OVER?
No. September and October are traditionally the worst months for wildfires.