Q&A: Investigation into detention of Emirati at Ohio hotel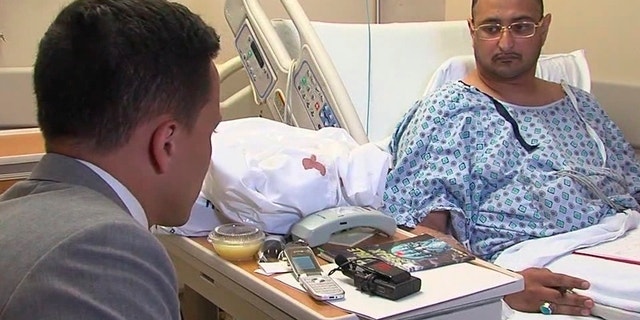 NEWYou can now listen to Fox News articles!
CINCINNATI – A prosecutor is investigating events surrounding the police detention of an Emirati businessman at an Ohio hotel in a case that has drawn international attention. A look at the particulars:
___
WHAT EXACTLY HAPPENED?
Police went to the Fairfield Inn and Suites in Avon in suburban Cleveland on June 29 after they received 911 calls from family members of a hotel clerk expressing fears that a businessman could have ties to the Islamic State group. Avon officials say the family members told police that the clerk apparently locked herself in a closet and texted them, saying the man was pledging his allegiance to ISIS, using an acronym for the Islamic State group.
___
HOW DID POLICE RESPOND?
Police arrived to find the man with a cellphone in his hand and ordered him at gunpoint to drop the phone and get on the ground. They then handcuffed and searched him, releasing him after determining he wasn't a threat. Police say the clerk told them al-Menhali didn't make statements about ISIS. The clerk hasn't commented and messages can't be left at numbers listed for her.
___
HOW BIG A DEAL WAS THIS?
The treatment of al-Menhali became front-page news in the United Arab Emirates, which warned its citizens to avoid wearing traditional garments when traveling aboard. The Ministry of Foreign Affairs said in a tweet shortly after the incident that Emiratis should avoid wearing the garments for their safety. A separate ministry statement urged women to abide by bans on face veils in parts of Europe.
___
WHAT HAPPENED AFTERWARD?
Avon Mayor Bryan Jensen said the city apologized to al-Menhali. The police turned over their investigation to the Lorain County prosecutor to determine if a grand jury should consider criminal charges against the clerk or her family members, or if any action should be taken. Jensen and Avon Police Chief Richard Bosley said they would continue to review the police response to determine if changes need to be made to the city's 911 response protocol. "You can put onlookers and our own officers in unnecessary danger if you report untrue information," Bosley said. The mayor stressed police were following the department's procedures when a possible active threat was identified.
___
WHAT WAS AL-MENHALI'S REACTION?
Al-Menhali's attorney, David Malik, said his client wants to be sure that someone determines how the events unfolded at the hotel. Malik says that he also is thoroughly investigating what happened and exploring legal options. "Police know that they will receive some 911 calls that aren't genuine, and they need to be trained and prepared for that when they arrive at a scene," Malik said.
___
WHAT DOES THE HOTEL SAY?
Attorney Patrick Roche, representing the hotel, had no immediate comment Monday.