Puzzle Man wins fame picking up the pieces
EAST PALESTINE, Ohio – David Butler found his claim to fame at 91 years old.
"I get it all over town, everywhere I go, 'It's the Puzzle Man,'" the East Palestine, Ohio, resident told Fox News as he sat at his dining room table with his latest project.
The puzzle saga began with a gift last November, when his daughter, Cindy Fletcher, gave him several in hopes of keeping him busy.
"This is a one day ordeal," Butler said then as he held up a puzzle with colorful hot air balloons. "It's 500 pieces."
But they didn't last long enough, Fletcher said.
"And from that, it got to be puzzles and puzzles and more puzzles, until he was doing two and three puzzles a week," Fletcher said.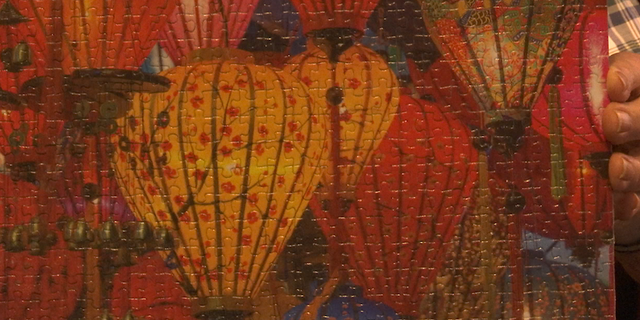 She said she reached out to the local Facebook community page, asking for more puzzles to keep her dad occupied.
Soon, the interest in the Puzzle Man grew and requests for him to complete puzzles started coming from out of town.
"They were sending them from California, they were dropping [them] off at the house, and it just sort of took off from there," Fletcher said, adding they've asked people to hold off sending any more until the Puzzle Man finishes his current projects.
One of the puzzle recipients was five-year-old Elli Campbell.
"Mr. Puzzle Man built this for us," she said as she held her candy puzzle. "He built it so it will be perfect for my playroom."
Her family donated money for the puzzle, sparking an idea for both the Puzzle Man and his daughter.
"That's when we found out about the first aid kits," Fletcher said. They learned the local school district in East Palestine, Ohio needed the supplies, Fletcher said, and decided it was a worthy cause.
"The first aid kits are going to cost a good bit so we're very fortunate to have Mr. Butler," Parent Teacher Organization Vice President Ashley Mckim said. "He's helping us out with that cause."
The Puzzle Man won't rest at his newly-discovered craft.
"I think it was 1:30 when I went back to bed," he said about one of the puzzles he stayed up to finish. "Well, you can't sleep, might as well do something like this."
But sometimes, he says, he decides to take his time.
"I'm in no hurry to get this one done," he said of the puzzle in front of him. "It'll be done. It'll be about two days.
He confesses that some puzzles are trickier than others.
"This one's no picnic," the Puzzle Man said as he held a completed puzzle. "[The owners] had this for a year and a half when they brought it over to me."
But he says he got it done.
The Puzzle Man says he has finished more than 200 puzzles and sent many of them back to their owners or sold them for donations.
Fletcher says she helps him put the finishing touch to the puzzles by adding mod podge so they stay intact when they're completed. The Puzzle Man promises he won't stop solving the tough puzzles any time soon.
"Well I ain't dead yet," he said. "I'm going to be doing this as long as I'm able."