Purple peril: Homeowners group threatens family over swingset's color
NEWYou can now listen to Fox News articles!
A Missouri mom said Friday her homeowners association is threatening her with jail all because her children's backyard swing set was painted purple—more than two years ago.
Marla Stout says the homeowners association for the vast Raintree Lake subdivision in Lee's Summit has complained to her that the color is not in harmony with other colors in the neighborhood. She's been told if the treehouse/playset isn't removed she or her husband could be fined or even jailed. The Stouts and the homeowners association have an Aug. 21 date with a judge over the dispute.
"In order for us to ever go to jail obviously we would have to be found to be wrong and we have to refuse to pay any fine," Stout told Fox & Friends Friday morning.
"Apparently they don't like gray either. We got very frustrated.
She insisted they've done nothing wrong and have not broken any rules, nor have they refused to pay any fine. The HOA had obtained a fine but it was overturned when the Stouts appealed.
Stout said she offered to repaint the swing set gray but that was rejected.
"Apparently they don't like gray either," she said. "We got very frustrated. There's somewhere between 2,000 and 3,000 homes in our community. There's all kinds of colors. There's people with bright purple doors. There's trees that are the color of this swing set."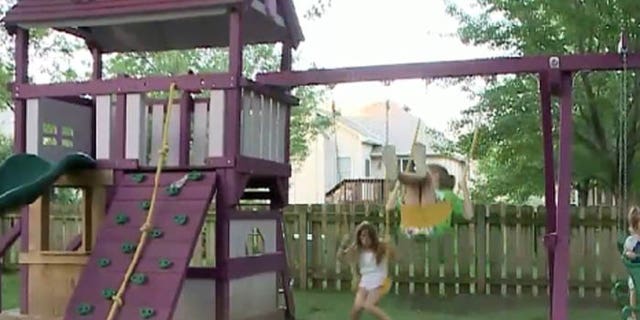 Her daughters, 8 and 5, wanted to paint the swing set the color of bubblegum. They agreed to purple when Stout said she didn't want pink. The swingers were in the backyard for a year before the HOA notified them about the offending color.
More than a dozen neighbors have signed a petition in support of the purple playset and on Tuesday those neighbors gathered in support of the Stout family at a community meeting, Fox4KC reported the other day.
Stout told the station the HOA sent a letter saying she hadn't gotten the playset property approved before putting it up and that the color needed pre-approval.
Another letter from the homeowner's group said the lawsuit will cost the Stouts "far greater than any principal you are trying to prove."
During a brief conversation with FoxNews.com Friday, a woman with the homeowner's group declined comment. "We can't talk about it because it is going to court Aug. 21," the woman said.