Public tees off on Wisconsin golf course after tasteless '$9.11' discount offer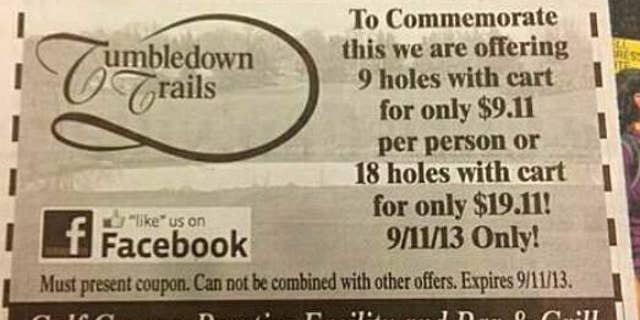 A Wisconsin golf course is deep in the rough following a tone-deaf promotion that offered nine holes for $9.11 on the 12th anniversary of the Sept. 11 terror attacks.
Officials at Tumbledown Trails Golf Course in Verona apologized for the tasteless pitch late Monday, in which it offered would-be golfers "9 holes with cart for only $9.11 per person or 18 holes with cart for only $19.11!" The ad appeared earlier Monday in the Wisconsin State Journal and sparked widespread outrage online, prompting officials to consider closing down for the day.
"Please stay tuned to see if we will be open on Weds 9/11," a posting on the course's Facebook page read. "We are now worried about what people will do/say to our staff & do not want anything to happen or get out of control. Sorry for the inconvenience this may have caused anyone."
[pullquote]
Calls seeking comment from staffers at the 6,501-yard course were not immediately returned early Tuesday. Club owner and general manager Marc Watts told The Associated Press that no disrespect was intended. Watts said people are calling the club with death threats, adding that a sheriff's deputy has now been stationed there.
"We're a little hurt by the fact that people are putting such a negative context on this," Watts said. "I thought people would appreciate it."
The promotion actually began two years ago — on the 10th anniversary of the attacks — and had been warmly received as a way to ensure people never forget the tragedy until now, Watts said.
In an earlier message posted Monday, course officials said tee times already booked via the promotion will be honored and that additional golfers will pay the normal rate. The difference between those rates will then be donated to the 9/11 Memorial.
"We hope that everyone will now see this as a positive as we really meant it to be," the Facebook post read. "Again, we do sincerely apologize for offending anyone & hope that you do accept our sincere apology."
Most commenters, however, were not satisfied with that solution.
"9/11 is a painful, frightening memory for those of us who were living and growing up in the Northeast," another commenter wrote. "For those who were there and who lost parents, relatives and friends, it is a nightmare they must face at this time every year for the rest of their lives. To exploit these horrors for profit is sickening."
Others suggested that the course's "entire marketing department" be terminated, while a much smaller segment of commenters said the promotion was well-intended but misguided.
"I don't see why people are complaining," another commenter wrote. "Like they've mentioned — they offer a generous discount to veterans (something many trails and businesses do not.) I don't have a problem with the course HONORING 9/11 — which was obviously their intention."
Nearly 3,000 people died in the 2001 attack on the World Trade Center and the Pentagon, and in a hijacked flight that crashed in Shanksville, Pa.
Watts also garnered support from golfers such as Colleen Savage, who said the entire incident was a misunderstanding.
"I'm quite shocked," Savage told The Associated Press after playing nine holes on the course Tuesday. "I definitely think it's blown out of proportion."