Protesters demonstrate outside Baltimore courthouse as first Freddie Gray hearing begins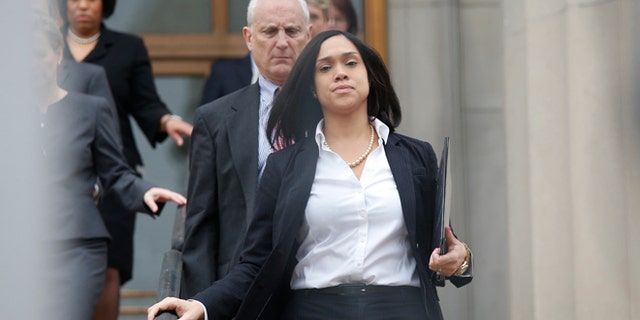 NEWYou can now listen to Fox News articles!
Protesters demonstrated outside Baltimore Circuit Court on Wednesday morning as the first court hearing was set to begin in the case of six police officers criminally charged in the death of Freddie Gray, a black man who died a week after suffering a critical spinal injury in custody.
As dozens of sheriff's deputies patrolled the streets around the courthouse and journalists and observers lined up waiting for the courthouse to open, protesters carrying yellow signs with slogans including "Stop racism now" gathered outside. They chanted: "Indict, convict, send those killer cops to jail. The whole damn system is guilty as hell" and "Tell the truth and stop the lies, Freddie Gray didn't have to die."
Prosecutors and defense attorneys will present arguments at Wednesday's hearing on three key issues: whether State's Attorney Marilyn Mosby should recuse herself, whether the officers should be tried separately, and whether charges should be dismissed.
The officers face charges that range from second-degree assault, a misdemeanor, to second-degree "depraved-heart" murder. Gray's death led to protests in Baltimore, and a riot that prompted National Guard intervention and a city-wide curfew.
Protester Lee Paterson said he's concerned charges could be dropped.
"You know, this whole thing is bigger than Freddie Gray," Paterson said. "It's about poverty."