Prosecutors press for tougher bail conditions after Sandusky is seen watching children in schoolyard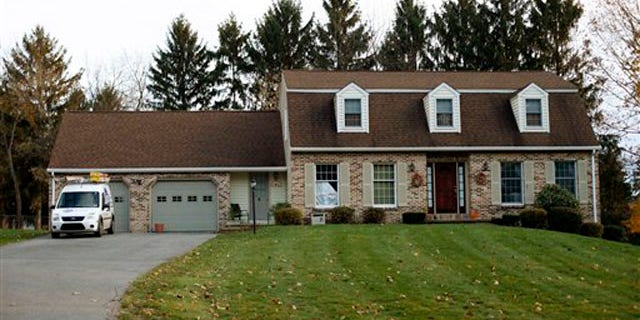 NEWYou can now listen to Fox News articles!
HARRISBURG, Pa. – Prosecutors asked Tuesday to have Jerry Sandusky kept indoors as part of his bail conditions, citing complaints that the former Penn State football assistant was seen outside and watching children in a schoolyard from the back porch of his home, where he remains under house arrest while awaiting trial on child molestation charges.
The state attorney general's office argued in a court filing that Sandusky's bail conditions should be revised so that he is not allowed outside except to seek medical treatment. Prosecutors said they opposed Sandusky's request to be allowed contact with his grandchildren as he awaits trial on 52 child sex-abuse charges.
"Several individuals from the adjacent elementary school have expressed concerns for the safety of children at their school and the adjacent neighborhood," prosecutors wrote. "Such concerns will only mushroom if defendant is permitted to roam at will outside his house."
The allegation he was watching children was outlined in an exhibit attached to the filing, a memo from a state investigator to a county probation officer that said a teacher and intern had reported concern for the children's safety.
"They advised the neighbor that yesterday they had the children outside for recess as it was a warmer day, and that they both witnessed Mr. Sandusky on his rear house deck watching the children play," wrote investigator Anthony Sassano on Jan. 26.
Sandusky's lawyer, Joe Amendola responded to the request to change the bail conditions by saying, "It is unfortunate that individuals continue to complain about the fact Jerry is not incarcerated.... for all practical purposes, he has been a prisoner in his own home since November 5th when he was initially arrested."
It said Sandusky's son's ex-wife "strenuously objects" to her three minor children having any contact with him, and that prosecutors believe Sandusky was fortunate to be granted bail.
"The commonwealth believes that (the) defendant should be in jail," prosecutors wrote. "He has been granted the privilege of being confined in his own home, which is spacious and private and where he can eat food of his own preference and sleep in his own bed at night. House arrest is not meant to be a house party."
That court document, and several motions filed late Monday by Sandusky's lawyer, come ahead of a court hearing Friday regarding his bail modification request.
Sandusky, 68, a former longtime defensive coordinator for Penn State's football team, has maintained he is innocent of the allegations, which claim he engaged in a range of illegal acts with boys over 15 years, from touching their legs to subjecting them to violent sexual assault.
As Sandusky's lawyers prepare for trial, they have asked a judge for copies of secret grand jury testimony, the phone numbers of his accusers and other material. A 37-page pretrial discovery motion sought dozens of records from the state attorney general's office, including subpoenas, photos, unredacted passages of blacked-out documents already provided to the defense, investigative notes and psychiatric records.
Amendola asked for records related to specific young men identified in grand jury reports as Sandusky's victims. Amendola said he was given the names of eight of the 10 alleged victims late last week.
A request contained in the latest defense filings concerned an interview with a former Centre County deputy prosecutor who has said little publicly about the role she may have played in the decision not to prosecute Sandusky more than a decade ago, after a mother complained about contact between Sandusky and her son in a university football team shower.
A state police report, Amendola wrote, "describes an interview with Karen Arnold, a former assistant district attorney of Centre County, wherein she and former District Attorney Ray Gricar had extensive disagreements over a 1998 police investigation regarding the defendant." Gricar disappeared in April 2005 and was declared legally dead last year.
Sandusky wants the phone numbers of his accusers so he can obtain their phone records.
"In many cases, (Sandusky) believes the accusers may have collaborated with each other in making these false accusations," Amendola wrote.
The attorney general's office said Tuesday the defense's discovery motion was under review.
Sandusky wants a list of all witnesses and a narrative of what they are expected to say on the stand, as well as the names of anyone who has come forward as a potential victim "but for various reason(s) did not fit the commonwealth's profile and/or the report was deemed to be false," Amendola wrote.
Amendola acknowledged that state criminal trial rules only require the attorney general's office to provide transcripts of prior testimony of witnesses after they have taken the stand at trial and been questioned by prosecutors.
"The defendant submits his trial in these cases will be repeatedly interrupted for extended periods if lengthy and multiple transcripts of the grand jury testimony of each witness called by the commonwealth are provided to the defendant and his attorneys only at the conclusion of the testimony of each witness," Amendola wrote.
He also asked for a copy of an interview with former football coach Joe Paterno, who died last month.
Amendola said he is opposed to a request by prosecutors to bring in a jury from outside Centre County to hear the case. He said he would file his formal response on that issue later this week.
The scandal resulted in the ousting of Paterno and school President Graham Spanier. Athletic Director Tim Curley was placed on administrative leave, and Vice President Gary Schultz, who was in charge of the university's police department, stepped down.
Schultz and Curley are charged with lying to the grand jury and failure to report to police. They maintain their innocence.