Prosecutor won't reveal details in Phoenix freeway shootings case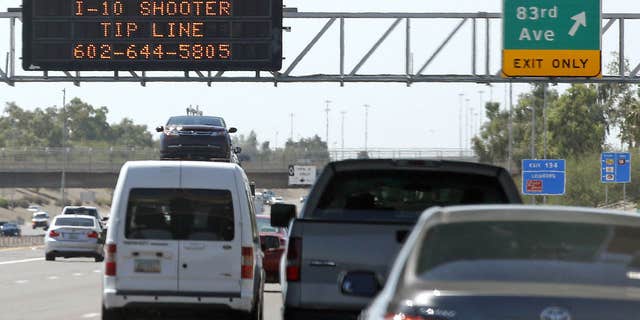 NEWYou can now listen to Fox News articles!
PHOENIX – For months, metropolitan Phoenix residents lived in fear as shots were fired at motorists on the freeway at random. Drivers avoided highways, school buses took different routes and signs were posted telling people to be careful.
The head of the Arizona Department of Public Safety called the shootings the work of a "domestic terrorist," and authorities heightened patrols and surveillance in pursuit of what appeared to be a serial shooter.
Now the case has been dropped against the only named suspect. Maricopa County's top prosecutor won't say why, except that the decision was made after hearing from an additional forensic expert.
County Attorney Bill Montgomery declined to give any details Wednesday when asked basic questions about the investigation at a news conference. It's unclear whether those behind the shootings are still at large and what authorities plan to do next.
"Wherever the evidence leads is where we go," Montgomery said. That could mean refiling charges against Leslie Merritt Jr., a 21-year-old landscaper.
The charges Merritt faced have a statute of limitations of seven years, Montgomery said
But dismissing the charges makes some believe the investigation was botched. That includes Robert McDonald Jr., who was hurt in one of the shootings.
"Of course Mr. Montgomery is going to say that potentially charges could be filed against Mr. Merritt because at this point in time, that's the only way they're going to keep the public from getting freaked out," McDonald said Wednesday.
When asked if the public should be on guard when driving Interstate 10 — where most of the shootings occurred — Montgomery said people should just be aware in general.
"You're much more likely to get hit with a piece of flying debris," he said. "You cannot in this day and age protect yourself against every potential threat."
Ulises Ferragut Jr., one of Merritt's defense attorneys, said Wednesday that he thinks prosecutors and law enforcement were under pressure to make an arrest and soothe the community's fears.
"It is a travesty and they did a very poor job, a rush to judgment, and Leslie Merritt became the scapegoat and he had to suffer and continues to suffer for it," Ferragut said.
He also said being labeled a "domestic terrorist" has ruined his client's life.
A Department of Public Safety spokesman had no comment.
Merritt's lawyers are calling for the release of previously sealed documents in the case. Those will prove their client isn't responsible for vehicle shootings that caused panic on Phoenix-area freeways in August and September.
Their court filing states the documents should be unsealed to prevent prosecutors from making false claims about why the case was dismissed. It cited a statement from County Attorney's spokesman Jerry Cobb saying the case's latest developments are the result of evidence uncovered by prosecutors.
"Nothing could be further from the truth," the motion states. "Allowing MCAO's statements to stand would constitute a tacit endorsement of the State's misleading the public with utter impunity."
Cobb declined comment, saying: "We respond to motions in court, not in the media."
Merritt's lawyers have contended ballistic tests cast doubt on authorities' claim that their client was behind four of the 11 freeway shootings. Merritt, who spent seven months in jail before his release last week, has maintained his innocence.
He filed a legal claim — a precursor to a lawsuit — a month ago demanding $10 million from the state and county. Merritt said authorities rushed to judgment and failed to provide evidence that he was present at any of the shootings.
Lamm said the case is still in its infancy, but Merritt could seek additional recourse if his arrest is found to be arbitrary or punitive.
Detectives took Merritt into custody Sept. 18, leading Gov. Doug Ducey to declare "We got him!" on Twitter five minutes after the arrest.
In court the next day, Merritt adamantly denied shooting any cars, telling the judge, "I'm the wrong guy." His lawyers immediately began raising questions about the evidence, citing ballistics information and phone records they say provided their client an alibi.
Ducey's tweet came under fire as a rush to judgment. Montgomery declined to comment on whether the tweet impacted the case.
"Having made ill-advised tweets myself, I am the last one who will cast a stone," he said.