Woman testifies about 'sex slave' initiation as NXIVM sex-trafficking trial gets underway
The New York City trial of the former leader of an upstate sex-trafficking cult began on Tuesday with federal prosecutors alleging he ordered the branding of several women and blackmailed them into having sex with him, including a minor.
The prosecution delivered its opening statements in the case of Keith Raniere, the former leader of the group NXIVM who is accused having sex with a 15-year-old girl and blackmailing other women with nude photos. Five of his co-defendants, former "Smallville" actress Allison Mack, have pleaded guilty.
One woman, identified only as Sylvie, testified against Raniere, telling the jury she was under orders to try to "seduce" him as part of her initiation in 2015. She claimed he got her to text nude photos as a prelude to meeting with him in person.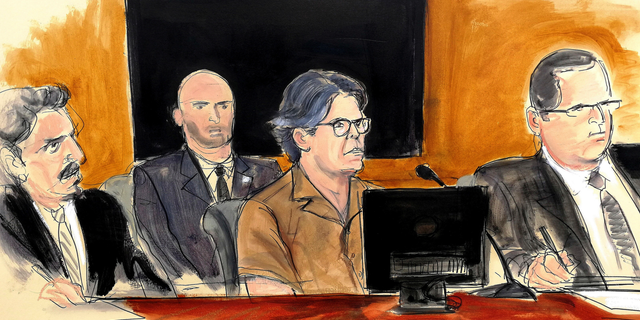 The prosecution also alleged that Raniere ordered the branding of several women with his initials using a cautery pen without anesthesia. The doctor accused of performing the ritual has been under investigation by state health officials.
'SMALLVILLE' STAR ALLION MAC MAY TESTIFY AGAINST ALLEGED NXIVM SEX CULT LEADER: REPORT
Raniere denied criminal wrongdoing; his lawyers said his relationships were consensual.
In court papers, defense lawyers said the accusers were never abused. The defense instead described the women as "independent, smart, curious adults" in search of "happiness, fulfillment and meaning."
Eight women who have not been identified refused to testify, claiming the branding for them was "a voluntary free expression of personal beliefs."
CLICK HERE TO GET THE FOX NEWS APP
However, more women are expected to testify that they were forced into having sex with Raniere.
"The defendant pretended to be a guru," Assistant U.S. Attorney Tanya Hajjar said, "but he was a criminal."
Fox News' Marta Dhanis and The Associated Press contributed to this report.