Proposed Gay Rights Ordinance Stirs Heated Debate in Michigan Town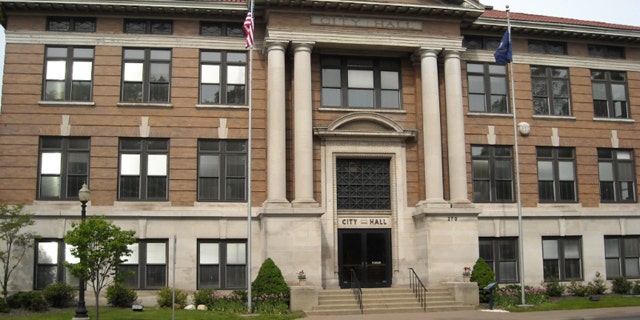 The battle over gay rights is in full bloom in the Tulip City.
In Holland, Mich., advocates of a proposed ordinance banning discrimination due to sexual orientation or gender identity say they plan to "stay the course" after a local newspaper ran a full-page ad warning that the ordinance would offer "special protections" to homosexuals.
The advertisement, which appeared in the Holland Sentinel on July 23, cited ongoing efforts by activists it claimed are seeking to give "homosexuals special protections" under employment discrimination laws within Holland, a city of roughly 35,000 residents nicknamed the "Tulip City" due to its annual flower festival.
"Let's not grant special protection to voluntary sexual behaviors that are actually harmful to individuals and to society," read the ad, which listed the Family Research Council and Request Foods as its sponsors. "Within the limits of existing law, let's let employers make their own hiring decisions -- not the government."
The ad appeared as the city's Human Relations Committee considers a proposed ordinance similar to measures passed in nearby Grand Rapids and Kalamazoo. The ordinance has not yet been drafted and a public comment period will likely be held within months, city spokeswoman Carolyn O'Connor said. It's unclear as to when any measure would be put up for a vote, she said.
"It is in review," O'Connor said. "At this point, they're researching it."
Advocates of the ordinance, which was proposed by Bill Freeman, chaplain of Interfaith Congregation in Holland and a member of Holland Is Ready, a group pushing for the ordinance, say they are merely calling for a ban on discrimination on the basis of an individual's sexual preference.
"I'm not asking for special protections," Freeman told FoxNews.com. "I'm asking for the same protections that Christians, minorities and women have. And I'm not asking for this on behalf of sexual behaviors; I'm asking for this for human beings who happen to be gay, bisexual or transgendered."
Freeman said he found the advertisement -- which cited five "facts" pertaining to homosexuality -- to be inappropriate.
"They listed several facts that were really myths and several myths that are really facts," said Freeman, referring to the ad's assertion that research does not show that individuals are homosexual at birth.
"I think people are born gay," Freeman said. "Science is finding that to be true more and more every day."
But Peter Sprigg, senior fellow for policy studies at the Family Research Council, defended the advertisement as a preemptive effort to "lay out some general principles" that Holland residents should consider.
"And I think it did that effectively," Sprigg told FoxNews.com. "We don't believe that sexual orientation is comparable to the categories protected in traditional civil rights laws. The concern is that the passage of these laws makes a moral statement of disapproval of those who themselves disapprove of homosexual conduct."
The advertisement was intended to "forestall action on the proposed legislation before this really begins," he said.
Sprigg defended the "myths" and "facts" contained in the full-page ad, citing a pamphlet, "The Top Ten Myths of Homosexuality," that he authored and is distributed by the Family Research Council. He said the 26-page pamphlet is supported by 84 footnotes citing sources like the Journal of Marriage and Family, the Washington Blade and the Journal of Homosexuality, among others.
"These are not assertions that are unsupported," Sprigg said, adding that he rejects the proposed ordinance primarily because it would interfere with the free market.
"We believe employers, in general, should have the right to make their own decisions about what qualifies or disqualifies someone for employment, and that the government should not make those decisions for them," he said.
Members of Holland Is Ready held a meeting last week and decided that the group will not run a separate ad refuting the earlier spot.
"Our plan is to simply stay the course, to continue working for the safety, rights and inclusion of [gay, lesbian, bisexual and transgendered] people and their families on the Lakeshore," a member of the group, Jennifer Adams, wrote in an email to FoxNews.com. "We'll be watching the process closely and going about the work of seeking equal rights for all people regardless of sexual orientation or gender identity."
Meanwhile, the listed co-sponsor of the ad, Request Foods, said on Friday that it did not support the effort to stop the ordinance and should not have been listed in the ad.
"The ad was paid for by one [investor] without our management team's knowledge or permission," the company said in a statement emailed to FoxNews.com. "The opinions expressed in the ad do not reflect Request Foods' views and the ad should not have included our company name."
Calls seeking comment from Peter Esser, publisher of the Holland Sentinel, were not returned.
In an op-ed that appeared Tuesday in the Holland Sentinel, Dr. Dwight McBride, dean of the College of Liberal Arts & Sciences at the University of Illinois at Chicago, suggested that readers "consider the source" of the advertisement.
"For those who may not know, the FRC is a neo-conservative lobbying organization; its purpose is 'defending faith, family and freedom,'" McBride wrote. "FRC's co-sponsor, Request Foods, is a Holland based company whose president and CEO, Jack DeWitt, is also a known advocate of conservative causes."
McBride's column continued, "Now I don't know about you, but I'd rather have my information and 'research' from more unbiased sources than a political lobbying organization and a food distributor."