Pro-illegal immigration students rip choice of DHS boss Jeh Johnson as Georgetown graduation speaker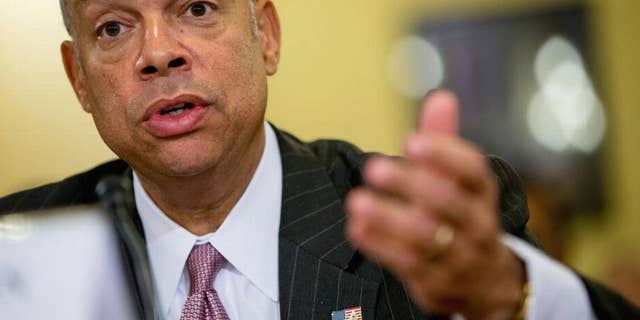 NEWYou can now listen to Fox News articles!
A group of Georgetown University students is demanding the school pull its invitation to have Jeh Johnson speak to graduates, saying the Homeland Security secretary is "directly responsible" for separating the families of illegal immigrants.
Some 30 students led by a group called UndocuHoyas wrote the Washington, D.C., university's School of Foreign Service's dean's office last week to say Johnson's role in immigration enforcement makes him the wrong choice for a commencement address, The Hoya reported. Other students circulated a petition that also sought to have Johnson's speech, announced on May 6, canceled, the school paper reported.
"We should not be forced to receive our diplomas from an individual who is directly responsible for separating our families," read the letter to the Foreign Service dean. "Therefore, we strongly implore the university to rescind Secretary Johnson's speaking invitation and take meaningful action to ensure that graduation is an inclusive and safe experience for all members of the Georgetown community."
According to Class of 2008 graduate Hemly Ordonez, Johnson's visit could upset illegal immigrants attending the school.
"Johnson's invitation is an insult to my family, to the myriad of Georgetown alumni from mixed-documented families, and to the undocumented students who are preparing to graduate this month. Graduation is supposed to be a safe, welcoming environment for students and families who have worked so hard to graduate, not a hostile or uncomfortable one," Ordonez wrote in the letter.
In a statement sent to The Hoya, Georgetown spokeswoman Rachel Pugh said the university hopes Johnson's visit will generate dialogue on freedom of expression and immigration.
"Our university leadership will meet with students this week to hear their experiences and concerns and is committed to seeking forums in which Secretary Johnson's engagement on campus can foster even more dialogue on these challenging issues," Pugh wrote.
As head of Homeland Security, Johnson is in charge of border security. The department has been criticized in some quarters for lax border enforcement, but pro-illegal immigration advocates say it has been aggressive in deporting people who have entered the U.S. illegally.
In response to UndocuHoyas' petition, Georgetown junior Reed Howard launched a change.org petition calling for the university to keep Johnson as the commencement speaker, The Hoya reported.
"It would be a tragedy to let Georgetown go down the path of other universities that have allowed students obsessed with safe spaces and echo chambers to prevail at the cost of a diversity of opinions and beliefs," Howard wrote.