Priest accused of abuse at Rhode Island prep school in 1970s suspended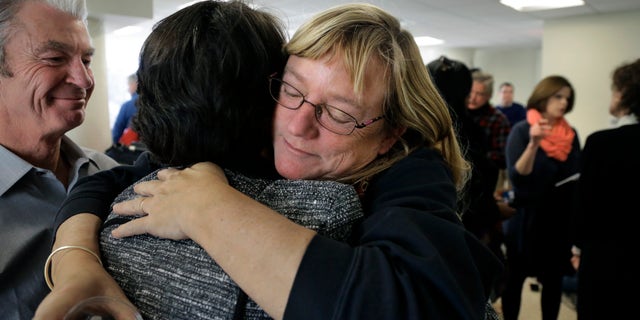 An Episcopal priest was suspended from a Pennsylvania church after being accused this week of molesting three boys at an elite boarding school in Rhode Island more than 40 years ago.
More than two dozen students allege they were molested or raped at St. George's School in Middletown in the 1970s and `80s. A lawyer for three former students named the Rev. Howard White on Tuesday as being among the six perpetrators the school identified after an internal investigation.
White, who has not been charged with a crime, is a retired priest who has been serving as a long-term fill-in pastor at St. James Episcopal Church in Bedford, about 100 miles east of Pittsburgh.
Episcopal officials moved swiftly after his name surfaced, saying he would be subjected to church discipline.
"I have moved to immediately restrict Fr. White's ministry and to provide for the pastoral care of the congregation that he currently serves," Bishop Audrey Scanlan of the Episcopal Diocese of Central Pennsylvania wrote in a letter published on the diocese's website Wednesday.
She said she has not received any reports of abuse at St. James.
White did not return a phone message left at his home Thursday.
Last month, St. George's School said it found that 26 students were sexually abused by six school employees in the 1970s and `80s. The boarding school acknowledged it didn't report abusers to authorities at the time and apologized for not doing more. Rhode Island State Police are investigating.
At a news conference in Boston on Tuesday, a lawyer identified White, a former assistant chaplain at St. George's School, as "Employee Perpetrator No. 2" in the school's report.
It said the employee was fired in 1974 after he admitted to inappropriate conduct with a male student. It added the school's investigation "determined the employee had inappropriate and potentially sexual contact with at least three male students, including sharing a bed and trying to touch students in bed."
A 1974 letter from then-headmaster Anthony Zane to White revealed that the school gave money to the priest after his departure and paid his moving expenses.
"Under the circumstances, I think the school is being generous, and if you find yourself hard pressed in the future I suggest that you consider selling your Porsche," said the letter, released Tuesday by attorney Carmen Durso.
Zane also urged White to stay away from boarding schools and to seek psychiatric help, according to the letter.
"Please do not return to St. George's until one generation has gone through, that is, not for another five years," the letter said.
A biography of White on St. James' website said he was also on the faculty of St. Paul's School in Concord, New Hampshire, and went on to serve in leadership positions at private schools in Virginia and North Carolina before becoming rector of a church in Waynesville, North Carolina. He stayed at Grace Church in the Mountains for 22 years.
Ordained 50 years ago last month, White retired to Bedford in 2007.