Preakness Stakes positions, past performances and everything else you need to know about the race
NEWYou can now listen to Fox News articles!
Horse race lovers, get ready for round two!
The 143 Preakness Stakes at Pimlico Race Course in Baltimore takes place this weekend — and all eyes are on Kentucky Derby winner Justify. The horse needs to win in order to continue his battle for the Triple Crown.
Preakness is the "Middle Jewel in the legendary Triple Crown where the best horses and jockeys compete for a chance at the ultimate prize in thoroughbred racing," according to the race website. "If it doesn't happen here, it doesn't happen."
This year, contestants are competing for a $1.5 million purse, though the Woodlawn Vase and iconic blanket of Black-Eyed Susans are also coveted prizes, Preakness notes.
Here's what you need to know ahead of the event.
When is the Preakness?
Preakness is on Saturday, May 19. The first race kicks off at 10:30 a.m. ET and there will be 14 races throughout the day. The big race is expected to start around 6:20 p.m. ET. You better have your television on and ready: the race is only expected to last about two minutes.
You can catch the action on NBC, NBC Sports Network or fuboTV.
What are the post positions?
1. Quip
2. LoneSailor
3. SportingChance
4. DiamondKing
5. GoodMagic
6. Tenfold
7. Justify
8. Bravazo
Who is the favorite to win?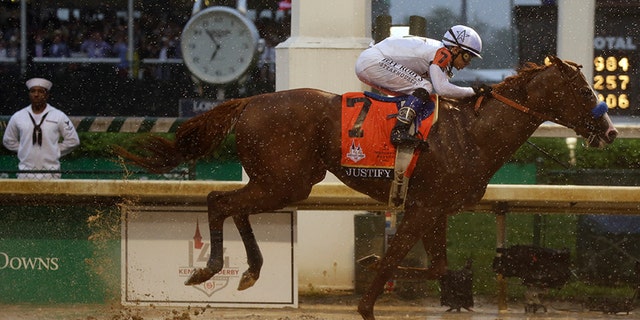 The answer, of course, is Justify.
Justify is on a winning streak. He's been 4-0 in his brief career, and now he's ready for his chance at the Triple Crown. If he wins this race, he only has one more to go: the Belmont Stakes in New York, which takes place on June 9.
Justify is the 1-2 favorite for Saturday's second race. Derby runner-up Good Magic is the second choice at 3-1 and Quip comes in third with 12-1 odds to win.
If Justify wins, it would be American horse trainer Bob Baffert's seventh Preakness victory, giving him yet another shot at the crown — just four years after Pharoah reigned victorious in 2015.
Any newcomers to look out for?
The finest of the newcomers this year appears to be Quip, who has three wins and a second-place showing in five career races.
"He's a really good horse. He's fast," Baffert said of Quip.
Trained by Rodolphe Brisset and ridden by last year's Breeders' Cup Classic winner Florent Geroux, Quip captured the Tampa Derby in March before finishing second in the Arkansas Derby.
"Quip is a horse that has shown quality at the highest level."
Quip is well-rested compared to undefeated Justify, who is coming in with just two weeks' rest — the quickest turnaround of his career.
"Quip is a horse that has shown quality at the highest level," Elliott Walden of WinStar Farm, which co-owns Justify and Quip, told The Associated Press. "We feel like he could have run in the Kentucky Derby, but we wanted to give him a chance to catch up to himself. He's a slight-made horse we felt like would do better with the five weeks rest."
Quip had a pair of wins last year before staggering to a seventh-place showing in the Grade 2 Kentucky Jockey Club at Churchill Downs in November.
Who won last year? 
Cloud Competing.
Similar to Quip, Cloud Competing also skipped the Kentucky Derby in 2017. The underdog beat the odds, defeating fan favorites Always Dreaming and Classic Empire with an upset victory at 13-1 odds.
According to Sporting News, Cloud Competing was the fourth horse in 34 years to win the Preakness without having first competed in the Derby.
"Some of the reason that we won today was because we were patient and didn't throw an inexperienced horse against a 20-horse field in the Derby on a very difficult track," winning co-owner Seth Klarman told The Associated Press at the time. "We made a great call."
Anything else?
The Pimlico Race Course first opened nearly 150 years ago, making it the second oldest racetrack in the U.S.
"Pimlico has played host to racing icons and Baltimoreans have seen the likes of legendary horses such as Man o' War, Seabiscuit, Secretariat, Affirmed, American Pharoah and Cigar thunder down the stretch in thrilling and memorable competition," Preakness states on its website.
It's supposed to rain on Saturday, a weather condition trainers are preparing for. Justify, in particular, is used to running in the mud. After all, he won in the muck at Churchill Downs.
But trainer and six-time Preakness winner D. Wayne Lukas warned owners to prepare for the worst.
"Every racetrack mud is different," Lukas told The Miami Herald. "This mud, Churchill's mud, Saratoga's mud, they're all different. You just don't know."
The Associated Press contributed to this report.