Praying Outside Clinic Gets Man Disorderly Conduct Charge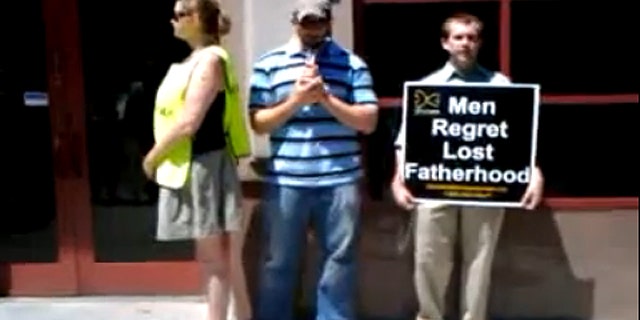 A Chicago man says he's fighting charges of disorderly conduct for simply standing on a public sidewalk and praying.
Joseph Holland, a 25-year-old graduate student at Northwestern University, says he was standing still praying the rosary outside a Planned Parenthood facility in downtown Chicago July 3 when police arrested him for violating the city's new "Bubble Zone" ordinance.
The law, passed in October, states that a person cannot approach within 8 feet of another person without consent "for the purpose of passing a leaflet or handbill to, displaying a sign to, or engaging in oral protest, education or counseling" within 50 feet from any health care facility.
It also says a person cannot "by force or threat of force or by physical obstruction" intentionally interfere with any person entering or leaving any health care facility.
But Holland says he didn't approach or interfere with anyone.
Click here to see a video of Holland praying outside the center.
"I was just standing by the building praying the rosary and one of the Planned Parenthood volunteers came up to me and started yelling at me that I needed to move 8 feet away, but the thing is I didn't actually approach anyone; I was just standing by the building and the building doesn't actually have a bubble," Holland told FoxNews.com.
Holland said he never responded to that volunteer or said a word to any Planned Parenthood staffers or anyone entering the building, but he still got arrested.
"I tried to talk to the officer first and explain that the building doesn't have an 8-foot bubble and that I didn't talk to anyone," Holland said. "I said, 'I'm praying, I'm praying to God, not talking to people' and basically he said me praying was a type of approaching people and violated the bubble zone ordinance."
Chicago police spokesman Roderick Drew told FoxNews.com that, according to the report, Holland "stood within an inch of the victim, prayed out loud at a high volume for over 10 minutes" but ultimately got arrested for blocking the entrance.
"The offender refused two requests to move, and continued to block customer access to the establishment after being asked to clear the entrance by the person in charge of the facility," he said.
Holland's attorney, Peter Breen, says since it was the volunteer who approached Holland and not the other way around, Holland couldn't have violated the ordinance no matter how close to him she stood.
In response to the allegations that Holland was blocking the entrance, Breen says, they're "absolutely false."
"If he was actually blocking the entrance to the clinic, then that would be a federal felony, that would not be something the Chicago police would be placing in an ordinance violation," Breen, executive director and legal counsel of the Thomas More Society told FoxNews.com. "…This arrest was about one thing: trying to scare pro-life people away from Planned Parenthood."
Breen, who also is representing a man who was arrested for allegedly violating the ordinance outside the same facility a few days later, says the fact that any arrests were made for alleged bubble zone violations is itself cause for concern.
"This ordinance doesn't have a jail penalty, so normally for an ordinance like that the Chicago police would show up, if they believe a violation had occurred they would write you a ticket, and you would show up a month or two later at an administrative hearing," Breen said. "It would be like getting a ticket for having a beer on the subway."
"In these cases cops are actually taking these men, taking them into custody, booking them – that's an arrest that goes on their record -- keeping them for five hours, then finally releasing them," he added. "So there are a couple of facets to this and our alarm bells really went off when we saw this treatment."
Drew confirmed that Holland was arrested, photographed and kept in jail until he posted bond roughly four hours later.
But Planned Parenthood says it's a good thing that the law is being enforced with a heavy hand.
"Our patients have the right to safely access the reproductive health care services they need to stay healthy," Planned Parenthood spokesperson Lara Philipps told FoxNews.com. "…The bubble zone ordinance is critical to ensuring that those giving and seeking health care can safely enter and leave medical facilities without harassment and intimidation. We hope the law is robustly enforced."
As for whether or not Holland actually was in violation of the ordinance, Phillips said, "We leave it to the court to determine the facts of the case."
Holland says that will hopefully happen Tuesday.
"We had our first court date last Tuesday on the 27th and our next court date is this coming Tuesday and it looks like we're going to have a jury trial -- for a $500 max fine for violating a city ordinance that I clearly didn't violate," he said. "Seems like a big waste of taxpayer money to me, but if that's what we have to do to show that people are being targeted for violating a city ordinance that they're not actually violating, then I guess that's what we have to do."