Prayers Answered: Seniors Can Pray Before Meals at Georgia Center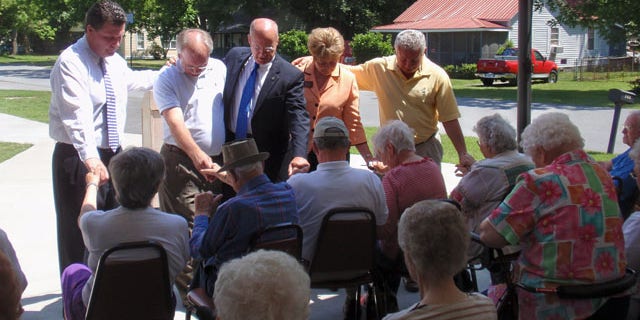 Their prayers have been answered. The Georgia senior center that barred elderly citizens from saying a communal prayer before meals has changed its policy after inquiries from FoxNews.com and other news organizations.
Residents at the Ed Young Senior Citizens Center in Port Wentworth, Ga., were told last week that instead of participating in a prayer, they should observe a moment of silence before their federally-funded meal.
Officials from Senior Citizens Inc., which operates the center, had said the meals they provide to visitors are mostly covered with federal money -- so saying a communal prayer before chowing down violated the First Amendment separation of church and state.
"We can't scoff at their rules," Tim Rutherford, Senior Citizens Inc.'s vice president, told the Associated Press. "It's part of the operational guidelines."
Rutherford, who did not respond to messages seeking comment on Monday, had said his company provides meals like baked chicken, steak tips and salads for roughly $6 a plate. Seniors who eat the meals pay 55 cents apiece, he said, with federal money footing the rest of the bill.
He said the moment of silence was introduced at the center to protect that funding. He insisted anyone at the center could worship whomever and however they please, but the decision to have a moment of silence was more than Port Wentworth Mayor Glenn "Pig" Jones could stomach.
"This country means a lot to me, but the part that I don't respect is it telling me I cannot pray over my meal," Jones said. "I can't accept and look them 65- and 70-year-olds in the eyes and tell them they cannot pray and bless their meals."
Jones had hoped to meet on Tuesday with the city's attorney and officials from senior center to settle the controversy. But late Monday, officials from the senior center announced a policy reversal.
"Senior Citizens, Inc. has always prided itself on the services it has been able to provide the seniors of the low country," it said in a statement. "Part of that service is an adherence to Federal and State regulations that have made funding possible so more seniors can be served.
"Over our years of service, we have been instructed, as recently as two weeks ago, by the state regulatory agency that verbal prayer was not allowed at any senior center. We are so pleased to say that we have been contacted a few minutes ago by the new Director of Aging clarifying the regulation and reversing the position of new verbal prayer.
"As an organization, we feel that spirituality is an important and necessary part of a full life and we are thankful that this interpretation of the regulation makes prayer possible in all of its forms."
Casey Arnett, director of the senior center, said the seniors who visit the center are no strangers to standing up for what they believe. "They're not going to let people tell them their rights about religion," she said. "They feel like they need to stand for theirs."
Eric Johnson, a former state senator now running for governor, visited the center Monday and said a blessing outside just before lunch to roughly 50 elderly citizens.
"I told them they're not fighting this alone," Johnson, a Republican, told FoxNews.com. "To heck with the federal government -- we can't stop people from free practice of their faith."
FoxNews.com's Joshua Rhett Miller and Jana Winter and The Associated Press contributed to this report.