Potentially dangerous debris left behind after failed hypersonic flight in Alaska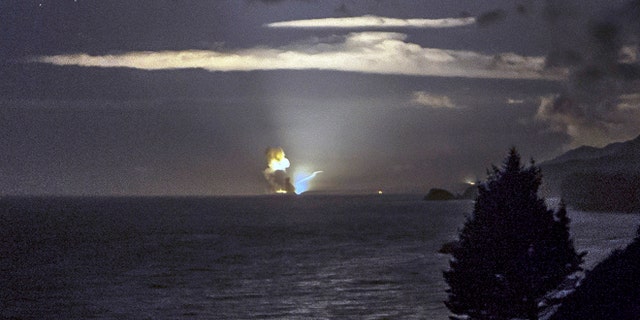 NEWYou can now listen to Fox News articles!
A military safety team will clean up unexploded rocket fuel and other potentially dangerous debris at the Kodiak Launch Complex following an explosion Monday of a rocket carrying an experimental Army hypersonic strike weapon.
The Alaska Dispatch News reported Wednesday that state officials are waiting for the military safety team to do the cleanup before damage to the launch complex is assessed.
The rocket carrying the Army's Advanced Hypersonic Weapon was blown up four seconds after it lifted off.
One person who witnessed the explosion reportedly wrote on Facebook that it was "quite scary to see. The sound was quite loud even though we were many miles from the launch site."
Department of Defense spokeswoman Maureen Schumann says an anomaly was detected and flight controllers blew up the rocket for safety reasons.
Debris damaged buildings on the rocket range. The 'significant' buildings included the launch tower, payload facility and integrated processing facility, the paper reported. There are no other launches planned, so no rush to fix the structures, the paper said.
Alaska Aerospace Corp. President Craig Campbell says debris bent or broke sheet metal siding, roofs and doors and blew out windows.
Schumann said the system exploded less than four seconds after a 4 a.m. launch. No one was hurt, according to a Department of Defense release. Witnesses told KMXT-radio they saw the rocket lift off, nose down and explode.
The Kodiak Launch Complex is 25 miles from the city of Kodiak.
The Army's Advanced Hypersonic Weapon, a rocket-launched glider, was in the nose of the rocket.
The Army's environmental statement says the small craft is designed to be lofted to near space before diving into the atmosphere and gliding to its target.
The Associated Press contributed to this report